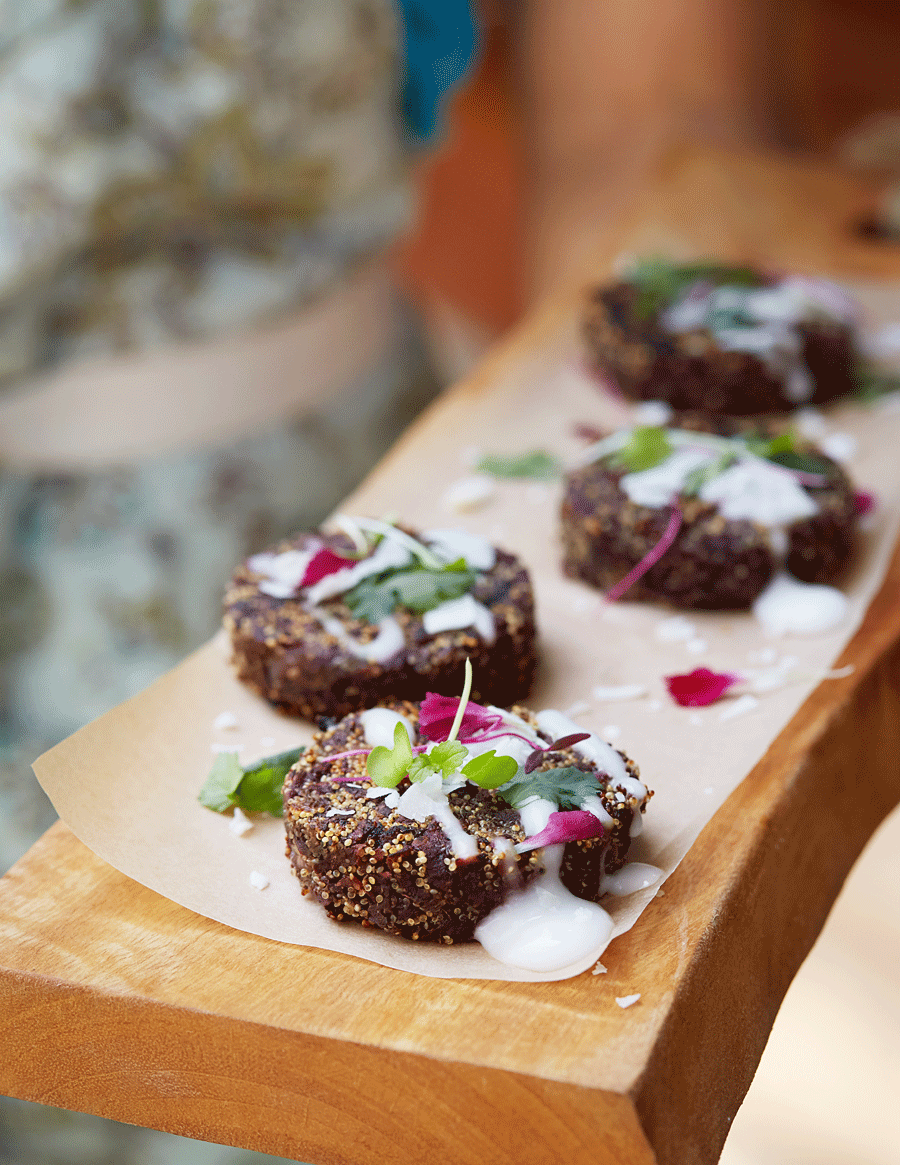 "Tapas have always been one of my favorite things to make."

-99% of chefs everywhere
Just why are tapas so awesome? As if I need to tell you — because they're little bites of flavor-packed awesome! Tapas are a great excuse to use up playful ingredients (like the purple yams and maca powder I use in this croquette recipe), without having to create an entire meal and worry about balance. This recipe was 100% the result of my just having fun in the kitchen, and yet it's sophisticated enough to be passed around at the most refined garden party. So, as we begin to hit outdoor entertaining season in stride, I encourage you: think big as you create small.
Amaranth & Purple Yam Croquettes
These crispy and soft croquettes make for an incredible app – the perfect party fare. No purple yams? Just use orange ones instead.
Makes 16 croquettes
½ cup amaranth
1½ cup water
3 tablespoons coconut oil, plus extra for cooking
2 cups shallots, minced
4 cloves garlic, minced
2 medium purple yams, peeled and shredded (about 6 cups)
2 tablespoons maca powder
¼ cup ground chia seed powder
½ teaspoon ground nutmeg
½ teaspoon cayenne pepper
Sea salt and ground black pepper
¼ cup coconut milk yogurt (or other non-dairy yogurt variety)
1 teaspoon fresh lime juice
Cilantro leaves, for garnish
Microgreens, for garnish (optional)
In a small saucepan, combine the amaranth and the water. Bring to a boil, then reduce heat to medium low and simmer, uncovered, until water has evaporated, about 20 minutes. Remove from heat.
In a large sauté pan, warm the coconut oil over medium heat. Add the shallots, and cook for 3 minutes to soften, stirring often. Add the garlic and cook for 1 minute longer, then add the yams. Cook for 3-4 minutes longer, stirring often, until the yams have softened and are mostly cooked through. Transfer the mixture to a large bowl. Add the maca powder, chia seed powder, nutmeg, cayenne, 1 teaspoon salt, 2 teaspoons ground black pepper, and stir well to incorporate. About 2 tablespoons at a time, roll and press the mixture into small patties – be sure to pack each patty firmly so it stays together. (Alternately, use a 2-inch ring mold to create uniform patties.) Once all the patties are made, lightly oil and warm a non-stick sauté pan over medium low heat. A few at a time, cook the patties until lightly browned and crispy, about 3-4 minutes on each side. Keep the cooked patties warm inside of a covered dish or warm oven, and re-oil the pan before cooking the next batch.
To serve, whisk together the coconut yogurt with the lime juice and a big pinch of salt. Drizzle over the cooked croquettes, and sprinkle with cilantro leaves and microgreens. Serve warm.
The post Amaranth & Purple Yam Croquettes appeared first on JulieMorris.net.