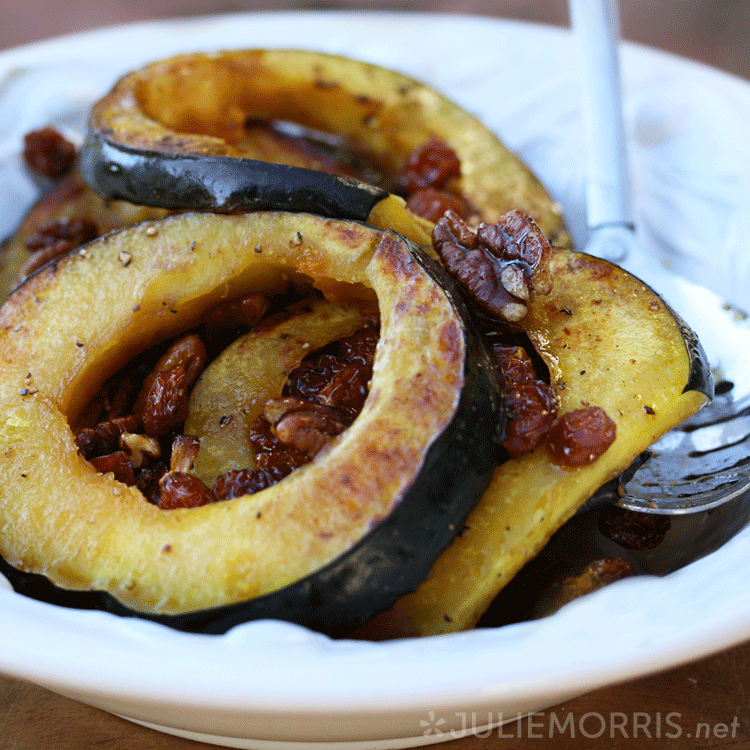 I used to proclaim cranberries as the ideal flavor-balancing antidote to rich fall ingredients. Until, that is, I met goldenberries (also known as gooseberries, incan berries, or ground cherries) — nature's fabulously unique rollercoaster ride of sweet, tart and citrus flavors. These delectable small fruits have become a rising star in the world of superfoods, with benefits like inflammation-fighting bioflavonoids (vitamin P), metabolism-friendly B-complex vitamins, and a whopping 16% protein composition (rare for a fruit). Not to mention they're cute too, resembling a yellowish cherry tomato, and growing inside of natural paper-like husks resembling Chinese lanterns. Goldenberry bushes can be found flourishing all around the world – from North America to South Africa.
When they're fresh, you can use goldenberries in desserts, like jams and pies … just like a berry. But to me, this is one fruit that really benefits from being dried, as the sugars condense and the complex flavor becomes much more intense. I'll usually look to acquire double the amount that I need for a recipe, as my first step is to eat half of my dried goldenberry bounty obsessively. So that's one way to enjoy them, I suppose. In recipes, however, a great way to use them is with winter squash, just like cranberries. I like to take dried goldenberries and some juice, briefly simmer them together into a reduction (a fun process to watch as the goldenberries plump up like they're excited), then toss the resulting glaze over roasted winter squash and toasted pecans. Hello holiday side dish.
Goldenberry Glazed Acorn Squash with Pecans
Makes 8 servings
1 cup raw pecans
4 acorn squash, halved lengthwise, seeds and membranes removed, then cut into rounds
3 tablespoons coconut oil, melted
¾ cup dried goldenberries, coarsely chopped
4 cups apple juice
3 tablespoons maple syrup
1 sprig fresh rosemary (whole)
sea salt and freshly cracked black pepper, to taste
Preheat the oven to 425 degrees F.
On a baking sheet, spread the pecans into an even layer. Toast until fragrant, about 6 minutes, and let cool. Chop coarsely.
Spread the squash rounds onto a couple of baking sheets in a single layer and brush cut sides of the squash with the coconut oil. Season with salt and black pepper, and bake until tender and lightly browned, about 35 minutes, flipping once, after about 25 minutes.
While the squash is baking, combine the goldenberries, apple juice, maple syrup, rosemary, and a pinch of sea salt in a medium saucepan. Bring to a boil and cook over medium-high heat, stirring occasionally, until the mixture has reduced to about a third and the goldenberries appear rounded, about 15-20 minutes. Keep warm to prevent the contents from solidifying.
When the squash is ready, transfer to a mixing bowl and add the pecans. Remove and discard the rosemary from the glaze and immediately drizzle the goldenberry mixture on top of the squash. Toss gently, and transfer to a serving bowl, drizzling any glaze at the bottom of the bowl on top of the finished dish. May be served hot or cold.
©2011 www.JulieMorris.net
The post Autumn feature: Goldenberries appeared first on JulieMorris.net.