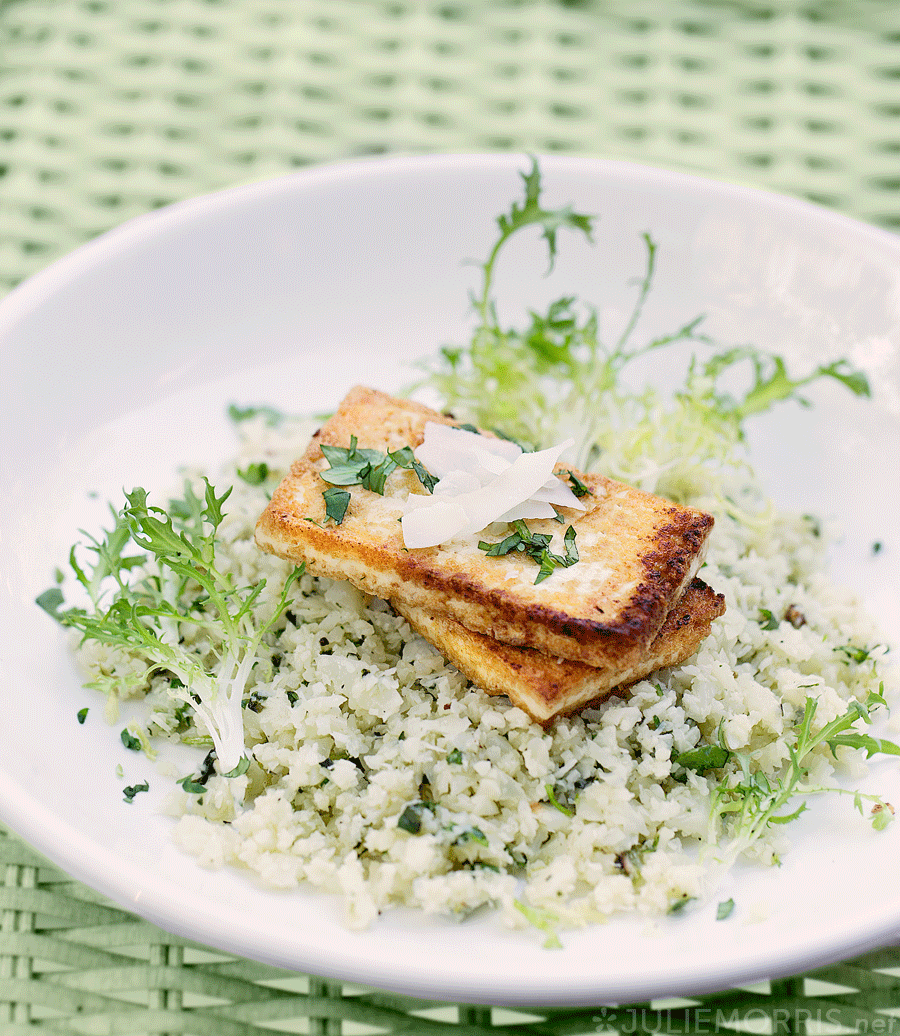 Whether you're going grain-free, looking for a tasty way to reduce calories and amp up nutrition, or simply obsessed with cauliflower like me, mastering the simple art of making fluffy cauliflower "rice" is a game-changing way to increase your daily veggie consumption. Just like with regular rice, a simple recipe will provide a more innocuous base, while adding in various seasonings can create a breadth of interesting flavor nuances. Below is one of my personal favorite "rice" recipes, which folds in coconut and lime flavors, mixed with fresh herbs as well as a hint of sweetness from coconut water powder (or simply use a touch of coconut sugar). If you like more bold flavors, you can also add in a little cayenne and turmeric.
Coconut Lime Cauliflower "Rice"
Finely chopped cauliflower acts like extra toothsome and tender rice for a guaranteed stand-out side dish.
 Makes 4 servings
1 head cauliflower
½ cup (packed) fresh cilantro, chopped
1/3 cup (packed) fresh mint, chopped
Zest of one lime
¼ cup lime juice
¼ cup olive oil
2 tablespoons Navitas Naturals Coconut Water Powder, or 1 teaspoon coconut sugar
½ jalepeno, seeded and diced
1 tablespoon coconut oil
2 cloves garlic, minced
1/3 cup shredded coconut (unsweetened)
Sea salt and fresh black pepper
Cut off the cauliflower florets, and place in a food processor (you should have about 6 cups florets). Pulse the machine several times until the cauliflower has been broken down into small bits that resemble rice. Transfer cauliflower from the machine to a bowl, and set aside.
Rinse out the food processor. Return the processor to the base, and add the cilantro, mint, lime zest, lime juice, olive oil, coconut water powder, and jalepeno, and generously season with sea salt and black pepper. Process into a pesto-like sauce.
In a large skillet with a tight-fitting lid, melt the coconut oil over medium-high heat. When the oil is hot, add the garlic, and cook for one minute, or until golden. Add the cauliflower, as well as 2 tablespoons of water. Season with sea salt and black pepper, mix well, then cover the skillet and steam for 10 minutes. Remove the cover, toss the vegetables, and continue to cook until all the excess moisture has cooked away and the cauliflower has dried out slightly and resembles fluffy rice (about 5-6 minutes). Transfer hot "rice" to a mixing bowl, and add the herb sauce and coconut. Toss well, and adjust the seasonings as desired. Serve warm or at room temperature.
Serving suggestions: Coconut Lime Cauliflower rice makes a wonderful side dish to your protein of choice. Try pan-searing a couple slices of organic firm tofu with a little bit of tamari for an elegant and satisfying pairing.
Originally developed for Navitas Naturals. Recipe by Julie Morris.
The post Cauliflower Rice appeared first on JulieMorris.net.