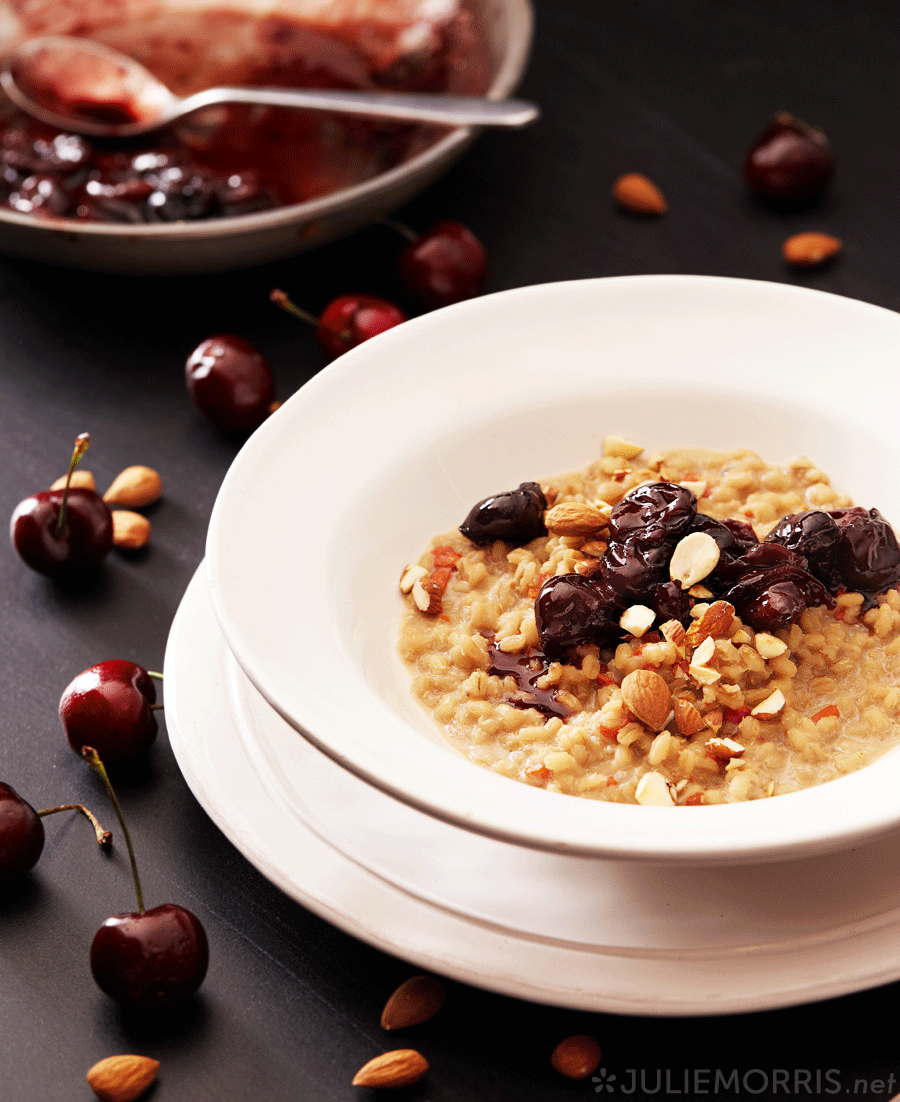 From rainbow-hued smoothie bowls to warm grains piled high with all your textural favorites, it seems as though there's a lot of us that have begun to rethink our breakfast in a big way … and it's all about the bowls. What are your favorite ingredients? Great! Put them in a bowl! I love this kind of candid, carpe diem way of approaching breakfast (or any meal for that matter). Those happy accidents often lead to the best combinations.
With that in mind, I definitely change my bowls up a lot, especially on weekends. You see, during that time, one of my favorite things to do is go for a leisurely long run. Often during the week, exercise is practiced early and grumpily, and often ended by rushing off to start the day and tackle the to-do list. But on weekends, I like to make exercise THE activity, the destination, in and of itself. And a favorite decadence around this practice (before or after … depending on the time of day) is a big porridge bowl. It's pure comfort, and I like to make them with all kinds of super-seeds or grains (like quinoa, teff, amaranth, and more), depending on mood or just what I have in the house.
Last weekend I made my post-run bowl with barley … admittedly mostly to use up a half a bag of grains that had been taking up space in my cupboard  for a little too long. I had forgotten just how great barley is, and especially with all the summer stone fruit starting to pop up, I have a feeling I'll be bringing it into a more regular rotation. Here, I paired with cherries — 'cause it's cherry season people! Whoo! — and it turned out so, so delightful.
Put this on your list to make over the weekend; I have a strong feeling I'll be making it with you. We can be porridge pals.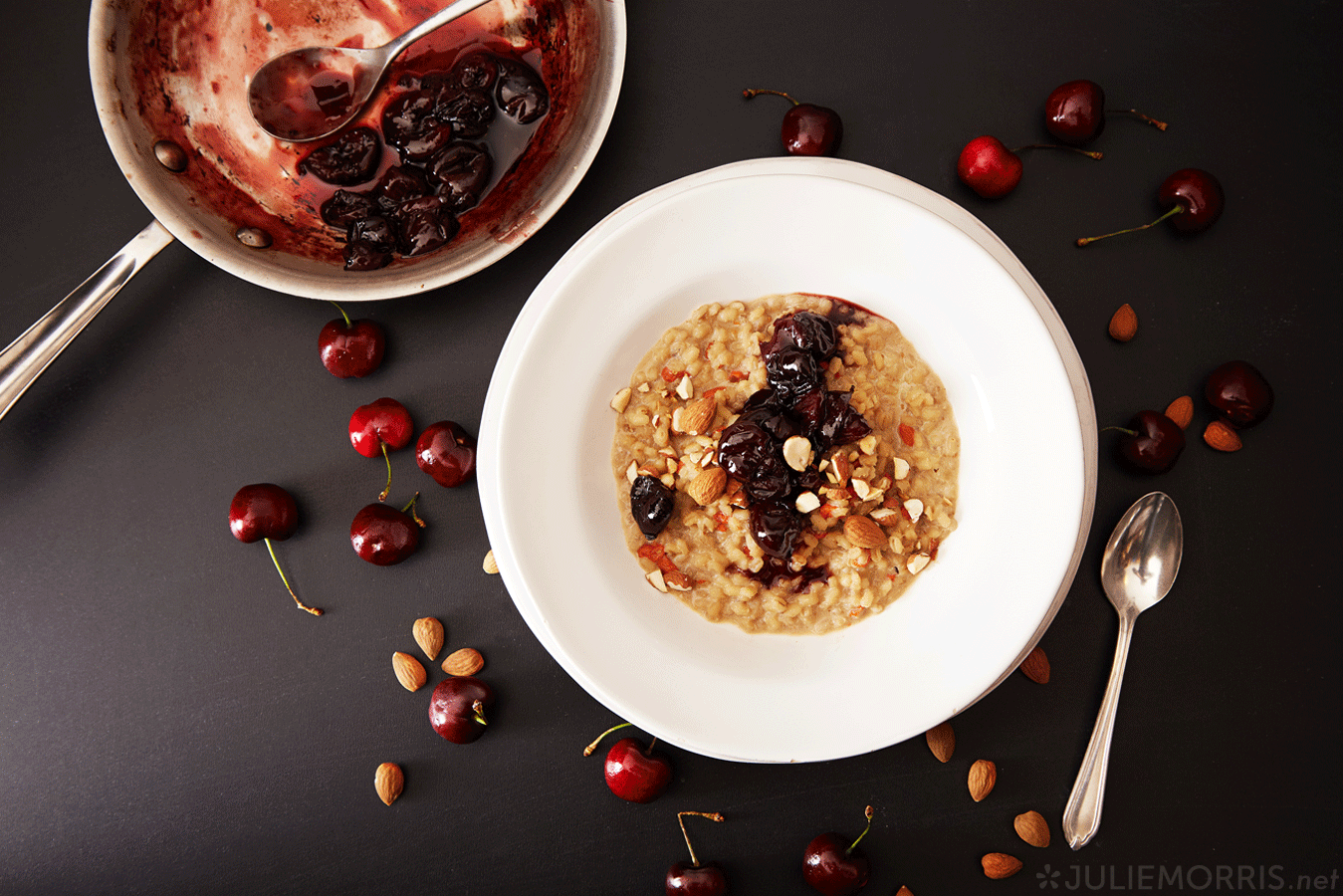 Cherry-Almond Barley Porridge
Warm, soft, and with a little bit of chew, this slightly sweet and milky porridge is likely to become a new favorite. Adorned with a sweet, glaze-y cherry sauce and crunchy almonds, this is a pretty amazing way to start the day.
Makes 2 servings
½ cup pearled barley
2¾ cup unsweetened almond milk, plus extra for serving
2 tablespoons dried goji berries
½ teaspoon vanilla extract
½ teaspoon almond extract
2 tablespoons coconut sugar, divided
1 cup frozen cherries, pitted
¼ cup apple juice
2 tablespoons toasted almonds, slivered or chopped
In a medium saucepan, combine the barley, almond milk, goji berries, vanilla extract, and almond extract. On medium-low heat, bring to a boil – watch heat carefully as mixture bubbles over easily. Reduce heat to a simmer and cook, stirring occasionally, until barley is cooked through – about 40-45 minutes. Remove from heat and stir in 1 tablespoon coconut sugar. If a thinner porridge is desired, add in a small amount of additional almond milk.
Meanwhile, about 10 minutes before the barley is finished cooking, make the cherry sauce. In a small saucepan, combine the cherries, apple juice and remaining tablespoon of coconut sugar. Bring to a boil, then reduce heat to a simmer. Cook until liquid is reduced by half, stirring occasionally, about 7-10 minutes. Remove from heat.
To serve, divide the barley amongst 2 bowls, top with cherry sauce, and sprinkle with toasted almonds.
Variation: Lower the sugar by using erythritol in place of the coconut sugar.
The post Cherry-Almond Barley Porridge appeared first on JulieMorris.net.