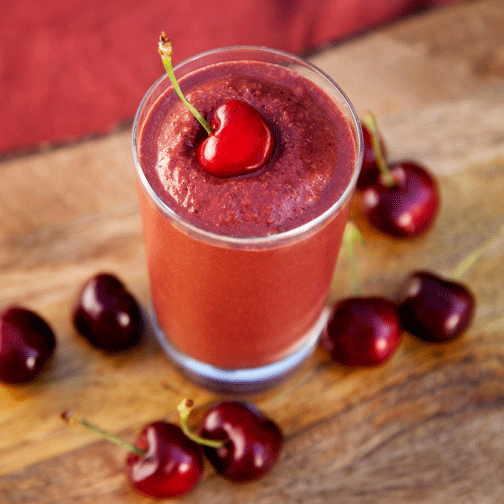 As a huge smoothie fan, I was delighted when I was asked to be involved in putting together a series of "60 Second Smoothie" videos with organic superfood company Navitas Naturals. After what was seriously a marathon of smoothie development (rough job; someone's gotta do it), we transformed some of the very best blends into seven sassy little videos. What I love about these smoothies is that they're not just designed to taste great, but are created to provide real-deal healthy function as well. You can check out one of the 60 Second Smoothie videos from the new series below:
Boy. I sure do love this one…with its sweet cherry flavor and creamy texture. But all taste sensation aside, its purpose is very clear: longevity. Many superfoods have natural compounds which are renowned for promoting a long life, such as packing in vitamin C and E, healthy omega fats and monosaturated fats, and a wide variety of antioxidants…from chlorophyll (found in green produce) to polyphenols (found in purple berries and cacao). Some favorite longevity foods include goji berries, acai berries, flaxseed, and leafy greens like spinach. Lovers of life, this smoothie's for you!
Cherry Berry Vitality Smoothie
INGREDIENTS
2 cups ice
1 cup frozen cherries
1 banana
⅓ cup cashews
1 tablespoon goji berries
3 tablespoons Navitas Naturals Antioxidant Powder
2 cups fresh spinach
1 tablespoon vanilla extract
1½ cups water
DIRECTIONS
Blend all the ingredients together until smooth and creamy. Makes 2 servings.
The post Cherry Berry Vitality Smoothie appeared first on JulieMorris.net.