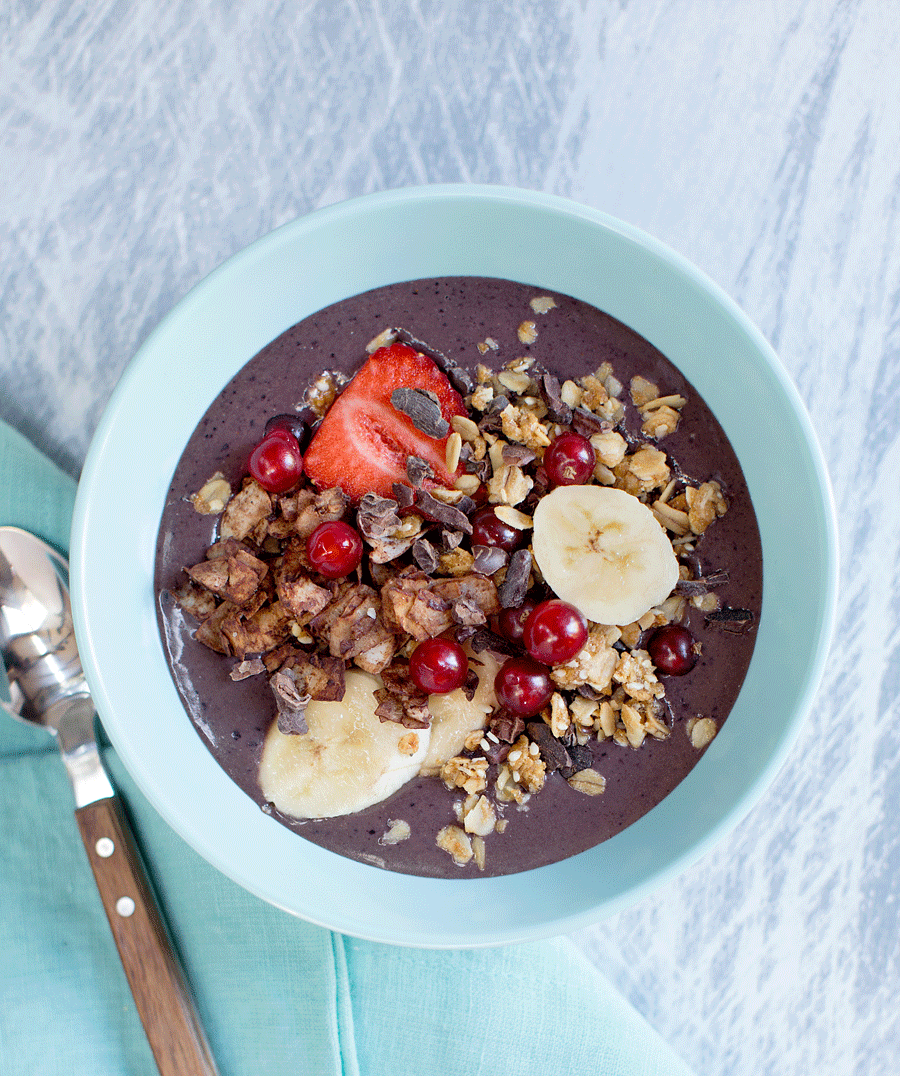 When it comes to eating, for whatever reason, some people gravitate more toward forks, and some people lean more towards spoons. Quite early on in life, I discovered I was a "spoon person." Forks are just too delicate for me – I like to really get in there, like a bulldozer, as with spoons, you can scoop, pile, and be choosy with every bite.  Rest assured, this isn't an attempt to convince you to come over to the spoon side of life … only my own odd validation.
Nevertheless, perhaps it is this love for spoons though that makes me such a smoothie bowl addict. Like a melty ice cream, smoothie bowls have all the benefits of a superfood smoothie, but they're a bit more of a creamy/frosty texture. Spoonable. And when adorned with all your favorite accutrements — from sweet fruits to crunchy nuts — they couldn't feel more like a treat. The Chocolate-Acai Bowl below is my new superfood heaven.
Chocolate-Acai Bowl
The best of both worlds: all the creamy goodness of an acai bowl, blended with chocolate (!) for an irresistible melting pot of flavor. Added protein makes this smoothie bowl extra satisfying long-term.
Makes 1 bowl/serving
1 frozen banana
1 tablespoon acai powder
2 teaspoons cacao nibs
1 tablespoon hemp seeds
1½ tablespoon your favorite chocolate protein powder
½ cup unsweetened almond milk
¼ cup frozen blueberries (optional – for color)
Liquid stevia (or sweetener of choice), to taste
Topping ideas: Coconut chips or flakes, granola, fresh berries, banana, goji berries, cacao nibs
Blend the banana, acai powder, cacao nibs, hemp seeds, protein powder, almond milk and blueberries into a frosty, smooth mix. Taste, and adjust the sweetness if desired with stevia or alternate sweetener (sweetness will vary based on the type of protein powder you use), and blend once more. Pour into a bowl, and sprinkle with toppings of choice. Serve immediately.
Originally developed for Navitas Naturals; recipe by Julie Morris.
The post Chocolate-Acai Bowl appeared first on JulieMorris.net.