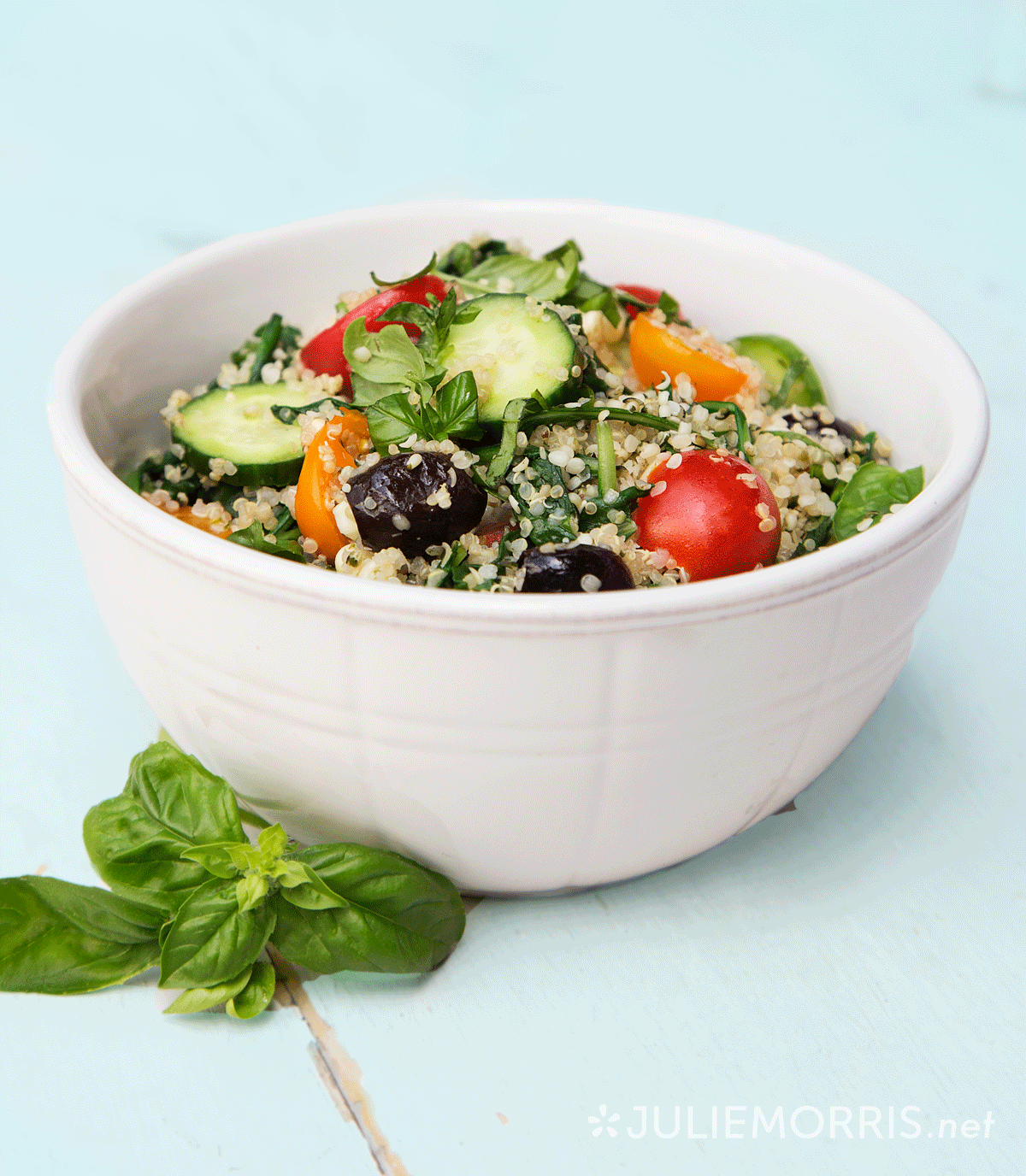 With protein, greens, good fats and antioxidants, this bowl is a fully-balanced meal. Best when enjoyed in the warm weather, when the ingredients are at their peak flavor.
Makes 4 servings
2 cups cooked quinoa (cooled)
1 ear organic white corn,
2 small persian or mini cucumbers, sliced thin
1 cup cherry tomatoes, halved
1/3 cup kalamata olives
12-14 leaves fresh basil
¼ cup hemp seeds
2 Tbsp fresh lemon juice
2 Tbsp olive oil, divided
sea salt and black pepper
5 ounces arugula
Place the quinoa in a large bowl. Use a chef's knife to cut the kernels off of the corn cob, and add to the quinoa. Add the cucumbers, tomatoes, olives, basil and hemp seeds. Drizzle with lemon juice, one tablespoon olive oil, and season generously with sea salt and black pepper. Toss to combine.
Add the remaining tablespoon of olive oil to a large skillet, and warm over medium heat. Once hot, add a small splash of water and the arugula, as well as a pinch of salt. Toss in the pan to briefly wilt – about 20 seconds, then transfer to the quinoa bowl (arugula will continue to wilt outside of the pan). Fold the leaves into the mixture. Adjust seasoning if desired. Serve immediately, or refrigerate until ready (serve cold or at room temperature.
Originally posted on Navitas Naturals. Recipe by Julie Morris
The post Greek Quinoa Bowl appeared first on JulieMorris.net.