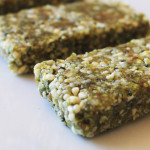 We all know we're supposed to be eating more fruits and veggies (and are kinda sick of hearing it), but let's face it: the craving for a tasty snack isn't always conveniently synonymous with a bag of peeled and washed carrot sticks. If you love your gastronomical pleasures like I do, you'll agree that life is too short for food experiences that don't provide a serious case of the "mmmm's." The antidote? Exploring new kinds of food architecture that enable a golden combination of energy-giving nutrition and genuine enjoyment.
A classic example of one such architecture is the smoothie. Great tasting fruits, superfoods, and sometimes even a few sneaky veggies get blended together into delicious drinks that even kids give a thumbs up to. However, as the seasons take a turn for the colder, the idea of a frosty one can be a little hard to swallow. Luckily, there's an excellent runner-up out there: the energy bar.
Of course, most stores are already absolutely overflowing with pre-made energy bars. But just because we buy them in little wrapped packages, doesn't mean they have to come that way. Homemade energy bars are remarkably easy to create, and also allow full control over the ingredients (many "nutrition bars" contain unhealthy filler ingredients, refined sugars, and difficult-to-digest protein isolates). Additionally, the DIY route also produces a bar that is less expensive, cuts down on excess packaging, and (in my opinion) is much more delicious! If you can make a smoothie, you can make an energy bar: they're that easy.
Needless to say, I often will make these guys to subdue my snack-monster tendencies. I look at energy bars with an opportunistic attitude: how much goodness can I pack into a great tasting treat? Make that energy bar live up to its name! To make a truly natural bar, I start out with a no-fail base of dried fruit and nuts, then blend in various superfoods to douse my snack with antioxidants, vitamins, minerals, and long-lasting energy. I even made a new version the other day using, of all things, a freeze-dried wheatgrass powder — which has become a instant hit as it's so surprisingly good. The wheatgrass powder has almost no taste at all, so the bars contain all the benefits of highly-condensed vegetable nutrition, without the undesired influence of veg-flavor. Though energy bars in general are a phenomenally flexible recipe; here's my simple wheatgrass-infused base recipe to get you started. In addition to the mega-vitamins from the wheatgrass, hemp seeds provide protein and healthy omega fats, cashews add an even further protein boost, dates bring minerals and natural sugars, and (optional) goji berries provide broad-spectrum nutrition and antioxidants. Here's to snacking…
Green Energy Bars
1 cup cashews
1 cup medjool dates, pits removed (about eight)
2 tsp freeze-dried wheatgrass powder
1/4 cup hemp seeds
1/4 cup goji berries (optional)
Mix the cashews, dates and wheatgrass powder together in a food processor just until a rough dough has formed (allowing some cashews to remain coarsely chopped). Add the hemp seeds and pulse several times until combined.
Place a sheet of saran wrap on a cutting board and spill the dough out on top. Use your hands to press and form into a 1 inch thick rectangle, then cut into 8 pieces.
Wrap and keep in the freezer for long term storage. Makes 8 bars (double or triple the recipe if desired).
©2010 JulieMorris.net
The post Homemade Energy Bars appeared first on JulieMorris.net.