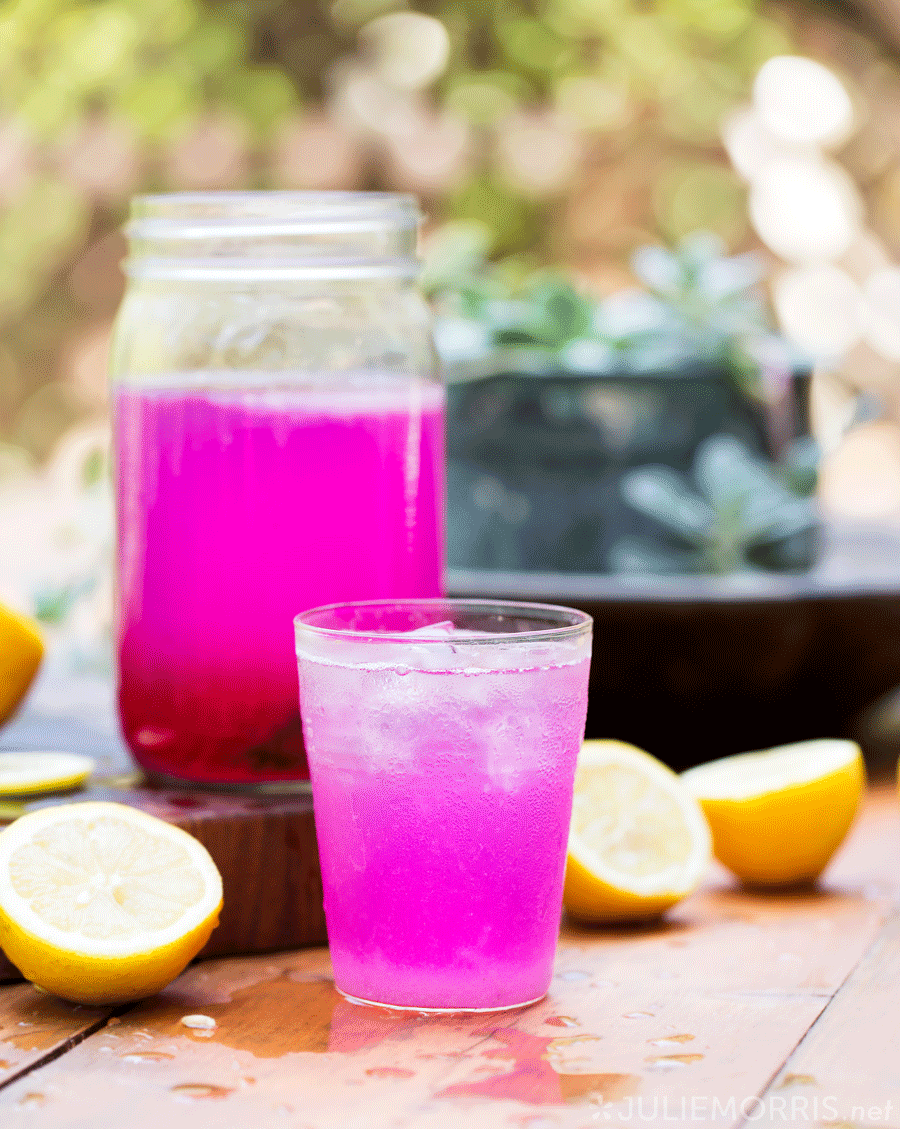 Homemade lemonade: A summertime staple! If you're a lemonade fan you are most definitely in luck, as not only is healthy, cleansing lemonade very easy to make, it can also be spruced up in all kinds of fashions to become more waaaaay more exciting … with added superfood benefits!
Making lemonade at home is as old a practice as cherry pie… just mix water, lemon juice, and sweetener. I like to keep my lemonade extra healthy by using natural sugar-free sweeteners like stevia or xylitol, or you can also use syrups like yacon syrup or agave. Sure, you can use smart sugars like coconut sugar too, you'll just have to stir a bit to make sure the sugar crystals fully dissolve, and your lemonade will have a little bit of a caramel color. As a general rule, I use ¼ cup freshly squeezed lemon juice per quart of water, and simply sweeten to taste. But before I refrigerate, I'll go to town with making it just a little bit more special…
Use fresh herbs | Though oft forgotten, garden herbs are actually powerful medicinal foods that offer full superfood nutritional potency! Incorporating them into lemonades has several benefits: water-soluble vitamins infuse into the water; the lemon helps to naturally extract the herb's potent flavor; and herbs create exceptionally unique, beautiful, artisan-style lemonades! Soak a small handful of your favorite fresh herbs in your lemonade for a minimum of 1-2 hours before serving, up to overnight. For best results use fresh varieties only (not dried, or you'll have little herb particulates in your drink), and try sweet-friendly herbs such as mint, basil, or rosemary.
Infuse dried super fruits | Soaking certain dried fruits in lemonade introduces a hint of exciting new flavor, often creates stunning colors, and leaves you with textural treats of hydrated fruit to enjoy with your beverage. It's true not every dried fruit works quite as well with citrus flavors (dried mulberries… not so much), but there are many which make fantastic pairings! Try dried goji berries, dried chopped mango, dried blueberries, or my personal favorite, dried dragonfruit (recipe below). Note that while you can use fresh fruit, dried fruit will be much more effective at infusing flavor and color. Just add a small handful per quart of lemonade and soak the mixture for 30-60 minutes, on up to several days.
Blend in superfood powders | Perhaps the quickest way to superfood lemonade is introducing a superfood powder into the mix. Fruit powders like acai, maqui, or goji powder are an instant and delicious fit. But thanks to lemon's pervasive flavor, you can also use smaller amounts of superfood powders that are – to put it nicely – known more for their benefits than their flavor, like camu and wheatgrass. Use a teaspoon on up to a tablespoon of berry powder (with the exception of camu powder) per quart of lemonade, or ¼ – ½ teaspoon of ingredients you'd prefer to "sneak" in, like camu or wheatgrass. Rather than stirring by hand, I recommend giving everything a quick whizz in the blender to make sure the ingredients incorporate fully.
Make it a chia fresca | Just by mixing in chia seeds, you can turn a basic lemonade into one of Mexico's oldest beverage: the chia fresca. Mix a couple of tablespoons of chia seeds into a quart of your lemonade, and shake/stir very well, so that there are no chia clumps. Let the mixture refrigerate for 15-20 minutes, and shake/stir again. Allow the beverage to refrigerate for a minimum of 15 minutes longer (up to days ahead of time) to allow the chia seeds to swell up and become slippery. The chia seeds won't add any flavor, but they do add a really fun texture, and stores of nutritional benefits like omega's and fiber.
Ready to try? Here's the simple recipe to the colorfully-blessed lemonade in the photo above…
Dragonfruit Lemonade
This electric pink lemonade may just be the most special summer drink ever! Keep this drink sugar-free by using stevia to sweeten, or use your favorite syrup or sugar – just use a clear or white variety to ensure maximum color.
Makes 1 quart
5 dried dragonfruit slices
¼ cup freshly-squeezed lemon juice
Water
Sweetener of choice, to taste
Place the dragonfruit slices and lemon juice in quart-sized mason jar, and fill the remainder of the jar with water. Add sweetener of choice, to taste. Refrigerate for a minimum of 30 minutes, up to overnight. Remove dragonfruit slices before serving.
Originally developed for Navitas Naturals. Recipe by Julie Morris.
The post How to Make The Coolest Lemonade, Ever appeared first on JulieMorris.net.