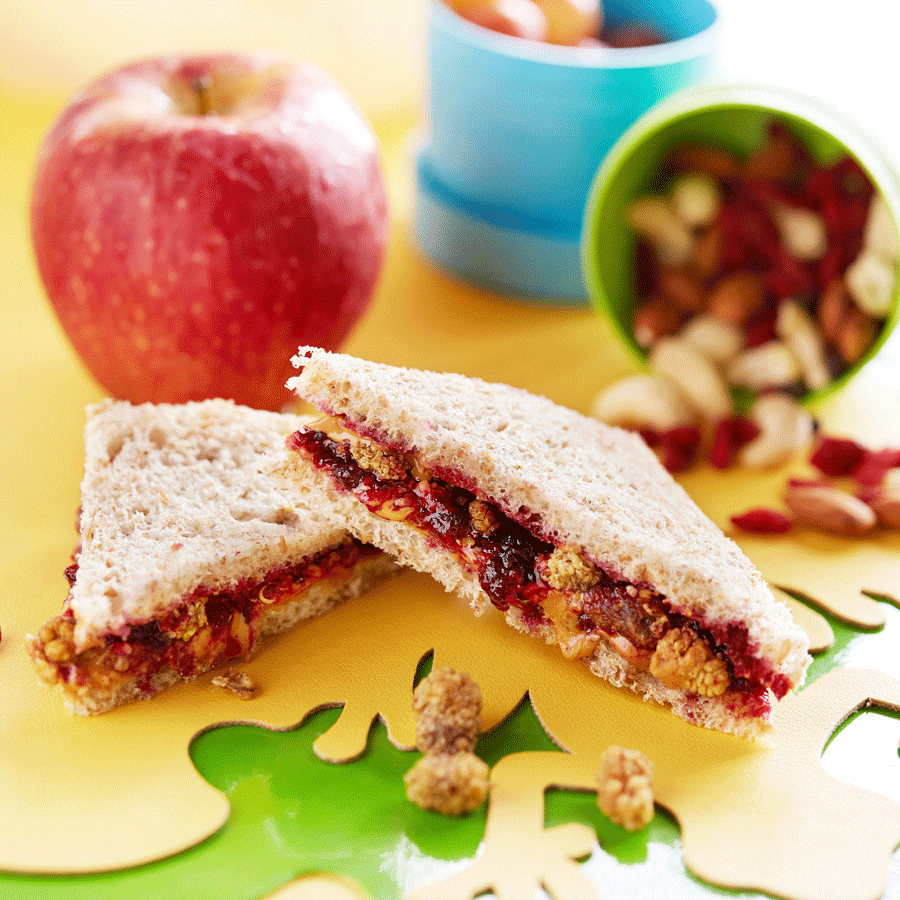 If you really want to turn a school lunch into a cool lunch, it's all about the superfoods! Many of us worry about the sensitive palettes of our children, catering to them by using more neutral foods and flavors we know won't garner any complaints. The truth is, there are many superfoods that kids are surprisingly big fans of, and especially when combined with known treats, these special ingredients can add an incredible nutritional impact! Here are some superfoods tricks to try out this school year:
Sneak into Sandwiches | Regardless of your child's favorite sandwich, I guarantee you can boost it with superfoods! Savory sandwiches made with a protein, avocado, tomato, etc, can be enhanced with protein-rich superfoods like hempseeds and chia seeds, which can either be sprinkled inside the sandwich, or mixed into a spread if you're using one. If your child likes greens, don't forget to pack in a few leafy greens like baby spinach too! Sweet sandwiches, like a PB&J, are great with a few added berries inside, such as raspberries, chopped strawberries, or dried sweet mulberries – kids love the extra "treat!"
Make a Trail Mix | Smart snacks are a crucial part of any lunch box, which kids can munch on at any time of the day when they get hungry. And, few things are more perfect for this task than a simple superfood trail mix! Make your own kid-friendly version by mixing together your child's favorite cereal with nuts, seeds, and dried superfruits like goji berries, goldenberries, and dragonfruit. Depending on the age, you can also have your child be a part of making their own unique blend of trail mix so you know they'll love it.
Whisk into Dips | If you're including a dip like hummus or ranch to go along with a cup of cut fresh veggies, rest assured: this is another great place to add superfoods! A little bit of wheatgrass powder blended into dips and dressings is a great way to stealthfully sneak in a massive amount of green nutrition without changing the flavor (and you can also do the same with a pinch of camu powder for extra vitamin C). For a more obvious superfood addition, mix in some delicious hemp seeds (which go great with nut butters) or some neutral flavored chia seeds (the perfect addition to salad-dressing dips).
Make Dessert a Superfood Snack | Let's face it: a small dessert is the most exciting part of a kid's lunch box, and there's no reason why it can't be truly good-for-you (shhhhh)! You can make a batch of whole food based Superberry Crispy Rice Treats – which pack in a whole rainbow of nutritious superfoods in every bite. Or, try making a chocolate pudding by whisk together some mashed avocado, maple syrup, and cacao powder (one big batch can last a week!). For over 100 more ideas — including a whole section just for kids — the Superfood Snacks cookbook is definitely a fantastic ally to have in the kitchen. It's pretty remarkable to experience the benefits of treat transformation!
Originally posted on NavitasNaturals.com. Placemats by Wildly Wald.
The post How to Pack A Superfood Lunchbox appeared first on JulieMorris.net.