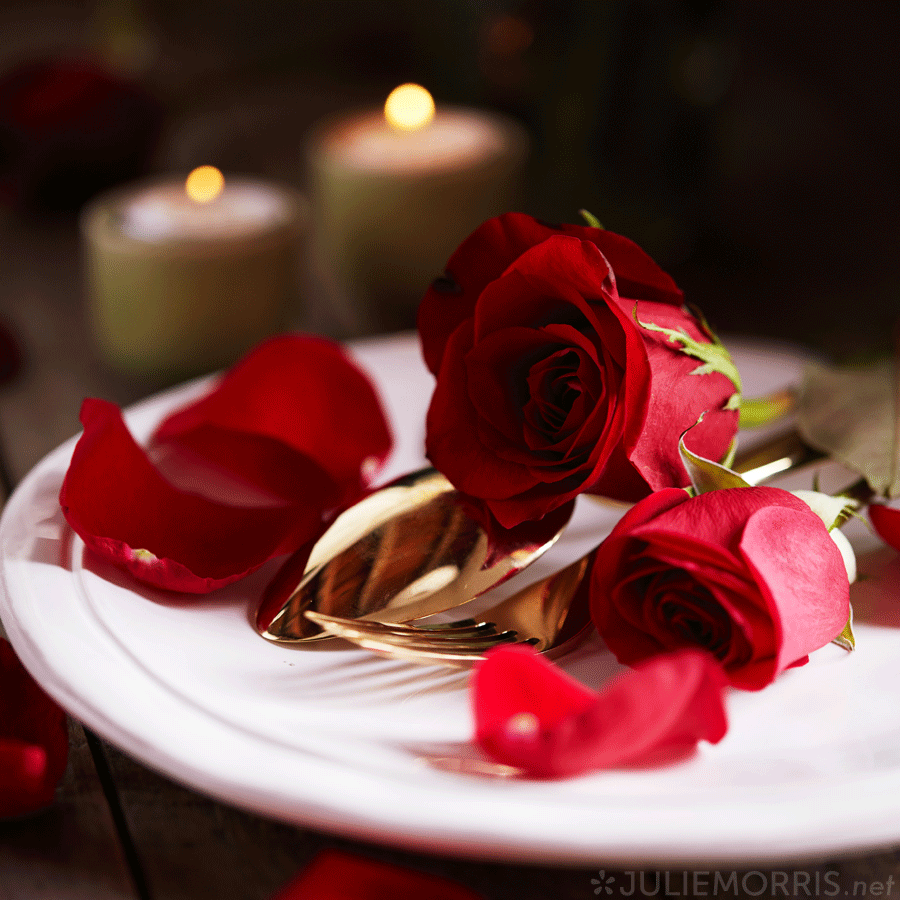 Whether you're planning on celebrating Valentine's Day or not, having a romantic menu you can prepare on demand is never a bad idea! In my opinion, there are two things that are the most important when putting this type of menu together. One is ingredients – using different types of superfoods that are proven to help in the romance department (such as cacao and maca), is the definition of functional food, and for all the best reasons! Your food should actually make you feel good, not sluggish or bloated. And two, making sure your menu showcases gorgeously is always great, but making sure it is relatively easy to prepare is even better – just imagine, you're not going to be in a very romantic mood if you've just slaved away over the stove for half a day!
Happily, we have lots of superfood recipes that fit the bill already here on this site, as well as in my books! To make a good impression, you should plan on serving about 4-5 recipes/courses: An appetizer, a first course, a main course + a side, and a special dessert. Drinks are completely up to you, although wine usually sets the tone nicely. Here's what I would suggest:
MENU
Roasted Beet Cream Cheese Crostini
Carrot Goji Soup
Mizuna Salad with Fennel
Butternut Squash Rissotto
Raspberry Chocolate Mousse
Roasted Beet Cream Cheese Crostini – Mini toasts spread with cashew cream cheese, a slice of roasted beet, black pepper, and a few microgreens make an easy yet stand-out impression. I love how the beets turn the cream cheese pink, too – great for a romantic feel. You can roast, peel and slice the beets ahead of time, and refrigerate along with the cashew cream cheese. This way, all you'll need to do is quickly assemble right before serving.
Carrot Goji Soup – Keep it easy with this smooth chilled soup, that's packed with good mood-enhancing goji berries. Again, make this ahead of time and refrigerate, so it's ready to serve when you are.
Mizuna Salad with Fennel – Plate this lovely salad from Superfood Kitchen alongside your main course to offer a fresh, crisp compliment to a heartier dish. Fennel is a known digestive aid, and mulberries offer a nice sweetness while keeping sugar content low. No Mizuna? Just use baby arugula instead.
Butternut Squash Risotto – Elegant yet comforting, there are few people that don't like a good risotto. This is a nice seasonal version, that wraps in easy-to-digest protein from hemp seeds. The perfect kind of meal to fill you up without weighing you down, I would even add a teaspoon of maca powder into the sauce while cooking to heighten its romantic power.
Raspberry Chocolate Mousse – Few things are more enjoyable, and romantic, than silky chocolate pudding … in this case enhanced by delicious fresh raspberries. Even better, you can make this recipe well in advance (even the day before!) and serve when ready.
Extra Credit – Sweetheart Chocolate Cake … look out for this recipe tomorrow on the blog! This divine low-sugar cake is bound to make a fabulous impression on your special someone!
The post In The Name of Love: An Easy Romantic Superfood Menu appeared first on JulieMorris.net.