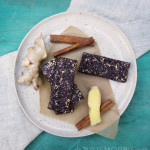 Though it's doubtful they'll last long in your household (hello, delicious!) these healthy energy bars keep well in the freezer for long-term storage. Try doubling the batch and keep these naturally sweet-and-spiced snacks on hand for whenever an energy boost is needed.
Makes 8-10 bars
3/4 cup raw almonds
3/4 cup soft Medjool dates (about 11-12), pitted
1/4 cup dried Turkish apricots (unsulfered)
3 tablespoons acai powder
2 tablespoons raisins
1/2 teaspoon ginger powder
1/2 teaspoon ground cinnamon
1/4 teaspoon vanilla extract
pinch sea salt
In a food processor, add all the ingredients. Process until a dough has formed (allowing some almonds to remain coarsely chopped for texture.
Place a sheet of saran wrap on a cutting board and spill the dough out on top. Use your hands to press and form a 1-inch-thick rectangle. wrap and place in the freezer for 30 minutes to help solidify, then cut into 8-10 rectangles. Best served cold.
Originally posted on NavitasNaturals.com. Recipe by Julie Morris.
The post Spiced Acai Energy Bars appeared first on JulieMorris.net.