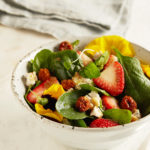 Last night, as I was huddled in the kitchen messily chomping down kale leaves dipped in hummus like a wild animal, I turned around to find my husband shaking his head at me. "You know, not everyone eats like you do," he said cautiously, as if exercising his best attempt at making a polite comment. "What do you mean?" I sputtered, unsure of whether he meant my mess of kale on the counter, or the fact that my level of hummus consumption was perhaps a wee bit out of control. "I just don't think everyone likes vegetables as much as you," he replied, and reached for some chocolate as if to prove a point.
I know I'm a bit biased, but I think a lot of people like do vegetables as much as I do. And those that don't, simply haven't tried them in an awesome enough way to become hooked. (Roasted brussels sprouts, anyone?)  I think salads are actually a great example, despite their bird-food stigma. You get some incredible flavor and texture combinations rolling, balance the macronutients with good fats and protein, and before long those vegetables are going to become absolutely irresistable and truly satisfying. Case in point – this seasonal strawberry-studded spinach bowl that's basically a "best-of" springtime foods. I dare you to try and stop eating at just a couple bites!
Spinach Salad with Orange-Chia Dressing
Who ever said salad was boring? Punched up with tangy flavor, this refreshing lunch salad is a treat for the eyes and the tastebuds.
Makes 4 servings
1/3 cup fresh-squeezed orange juice
2 tablespoon ground chia powder
2 tablespoon white wine vinegar
2 tablespoon olive oil
1 tablespoon maple syrup
½ teaspoon sea salt
¼ teaspoon ground black pepper
8 cups (packed) baby spinach
1 cup sliced strawberries
3 ounces soft nut cheese (optional)
1 tablespoon minced fresh chives
1/3 cup dried goldenberries
2 tablespoons pine nuts, toasted
To make the dressing: in a small bowl, whisk together the orange juice and chia powder until combined. Add the vinegar, olive oil, maple syrup, salt and pepper, and whisk to combine. Refrigerate for a minimum of 10 minutes, or until ready to serve.
To make the salad, combine the spinach, strawberries, nut cheese, chives, goldenberries, and pine nuts. Use as much dressing as desired, and toss gently to distribute. Serve immediately.
The post Spinach Salad with Orange-Chia Dressing appeared first on JulieMorris.net.