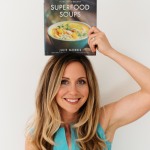 I'm thoroughly overjoyed to share that today marks the release of my brand new book: SUPERFOOD SOUPS. This book is the 5th book of my superfood series, and is truly brimming with all kinds of awesome new and exclusive material, just for you! You can buy Superfood Soups in bookstores nationwide, or order it online.
Inside Superfood Soups you'll learn how to create soup recipes that deeply nourish your body, while thoroughly exciting your tastebuds at the same time. Empower your culinary skills in an awe-inspiring fashion via the use of seasonal natural ingredients, and a curated selection of the most lauded superfoods available! You'll explore what superfoods are best for soup-making (and what makes them so incredible in the first place); learn the basics of how soups are composed so you can make your own creations with whatever ingredients you have on hand; and enjoy 100 creative recipes, each brought to life by show-stopping photography. Superfood Soups unites lovers of food and cooking, seekers of wellness and healing, dabblers of creative culinary arts, and advanced advocates of a best-ever healthy lifestyle. I mean, have you seen the trailer yet? There's so much to love!
I want to see you unleash a whole new level of magic in your kitchen this season. Think of Superfood Soups as a small investment in yourself that offers a lifetime of delicious and energizing rewards! Let's start souping!
Feel like sharing the soup love? Tag me with your best creations at:
Facebook: https://www.facebook.com/SuperfoodCuisine
Twitter: @greenjules
Instagram: @superfoodjules
Or leave a lovely review on Amazon
here: http://amzn.to/2bXxgm0
The post Superfood Soups, now available! appeared first on JulieMorris.net.