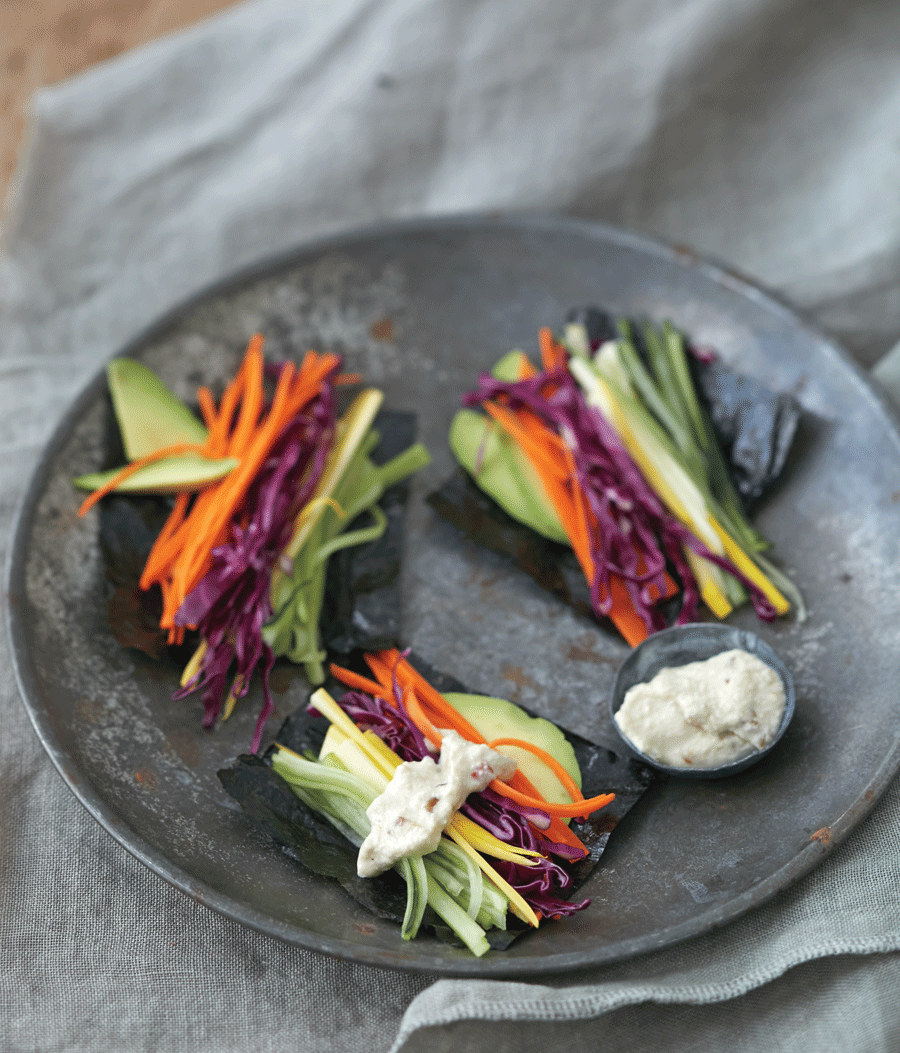 Let's talk life for a minute. The word "busy" has become one of the top five things people say when you innocently ask them "how are you doing?" (I've personally banned myself from responding with it, because I've decided I don't like the ongoing buzz of life to be a representation of who I am as a person. Also, it's a sad and boring answer! Bring back "good," or dare-I-say, even "I'm great!" Oh, and does anyone else need this soapbox I'm standing on?)
But back to busy. This is one of the biggest reasons so many of us have trouble eating well! Well, I'm about to let you in on one of my biggest secrets: wraps. Wraps are like the modern version of the sandwich, but with less emphasis on bread, and more focus on nutrient-dense, delicious fillings. The are immensely flexible, and are great to use up pretty much whatever you have in the fridge, be it dips, sauces, vegetables, even left-overs. Plus, while you can use a tortilla, you can also use things like nori sheets, big leafy greens, or take advantage of some of the paleo-esque products on the shelves like coconut wraps or those made from dehydrated flaxseed. The best part? All you have to do is roll everything up and you're off. Roll and go, my friend; ROLL AND GO. At home, one of my favorite two-second eats is a nori sheet smeared with hummus, a handful of leafy green salad, a couple shreds of sauerkraut, and a sprinkle of pepitas or hemp seeds. I can eat this forever and ever, and it couldn't be more easy or more rewarding.
I think it's this honest, modern lifestyle realism that my good friend Amie Valpone masters so well in her new cookbook, Eating Clean: The 21-Day Plan to Detox, Fight Inflammation, and Reset Your Body. She comes from understanding that life is busy (she lives in Manhattan!), but that it's no excuse for not being able to nuture oneself with true awesomeness everyday. As a talented nutritionist and recipe developer, Amie a walking rags-to-riches story in terms of health: healing herself from a decade of chronic illness, and now able to enjoy her life with abundant wellness (trust me, this girl is truly effervescent). Now, she's put together an in-depth 3 week plan to help others do the same, and I'm so excited to see how do-able and delicious everything is. Of course, her book includes wraps, and her recipe below may just become the 2.0 incarnation of my lazy hummus version. With spring right around the corner, it's a perfect time to start thinking about what kind of little upgrades you can make to eat — and live — just a little more clean.
 
Sunrise Nori Wraps with Spicy Tahini Drizzle
Text excerpted from EATING CLEAN, © 2016 by AMIE VALPONE. Reproduced by permission of Houghton Mifflin Harcourt. All rights reserved.
If you like California rolls, you'll love these nori wraps (though personally, I think they're so much better!). The tahini dressing is truly addictive—you're going to want to dress everything in it—and the cabbage provides a nice crunch. If possible, use a food processor to slice the cabbage so you can get it super thin. Also, make sure the vegetable strips are all the same width and length so that they don't hang over the edges of the nori sheets; this will make rolling up the wraps easier. Use leftover tahini drizzle as a dressing for salads or as a dip for crudités.
Serves 4
Sunrise Nori Wraps
4 nori seaweed sheets
¼ small head red cabbage, very thinly sliced
1 large carrot, peeled and julienned
1 small yellow summer squash, julienned
1 small cucumber, julienned
1 large ripe avocado, pitted, peeled, and sliced
1 recipe Spicy Tahini Drizzle
Spicy Tahini Drizzle
2 tablespoons freshly squeezed lemon juice
1¼ tablespoons chickpea miso paste
1 tablespoon raw tahini
2 medjool dates, pitted
1 garlic clove, minced
¼ teaspoon crushed red pepper flakes
Water, as needed to thin the drizzle
Place the nori sheets on a flat surface. Divide the cabbage, carrot, squash, cucumber, and avocado among the sheets. Top each pile of vegetables with a heaping tablespoon of the Spicy Tahini Drizzle, and then roll up the nori sheets into a tube shape.
Make the tahini: Combine all of the ingredients except the water in a blender. Blend, adding water 1 teaspoon at a time as you go, until the mixture becomes a thin sauce.
The post The New Fast Food: Wraps appeared first on JulieMorris.net.