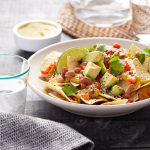 Last night, I was late-night binge watching Comedians In Cars Getting Coffee with my fiancé, a show which appeals to his auto-related enthusiasm and my love of dry humor just perfectly. My favorite episode by far was watching Jerry Seinfeld interview Obama (yes, Obama came on this crazy show – I can't believe it either). Jerry did what Jerry does best: asking loads of seemingly irrelevant (yet mildly genius) questions, that are about as far from your typical Q&A session as you can get. What would you ask if you got to meet the president? In Jerry's case, he wanted to know what Obama's all-out favorite food was. Obama's answer came quickly: nachos. "I have to get someone to take them away from me," the President explained.
I don't have to tell you, or Obama apparently, that nachos are the best. They're like all your favorite toppings in one giant plate party, and every chip you pull out is a little different. Even better, you can — honestly and truly — create nachos that are made with beneficial ingredients, such as this dairy-free and superfood-rich version I love to make. So go ahead, indulge in this share-friendly (and POTUS-approved) food … made with ingredients that make your body and your taste buds shake hands in complete and unabashed agreement.
Superfood Nachos with Cashew Queso
These nachos are generous with both their flavorful toppings as well as star superfoods like turmeric, hemp, and chia. For a simpler version, you can also just make the warm queso sauce and serve in a bowl as a dip for chips.
Serves 6-8
For the Queso:
¾ cup raw cashews
1½ cups water
3 tablespoons nutritional yeast
1 teaspoon sunflower or soy lecithin (optional)
2 tablespoons yellow miso paste
¼ teaspoon ground turmeric
¼ teaspoon chipotle powder
¼ teaspoon sea salt
¼ teaspoon onion powder
1 teaspoon tahini
1 tablespoon coconut oil
1 small shallot, minced
1 clove garlic, minced
1 jalepeno, seeded and minced
For the Nachos:
1 bag organic baked tortilla chips
1 cup cooked pinto beans
½ red bell pepper, diced
1 tablespoon chia seeds
3 tablespoon hemp seeds
¼ cup fresh cilantro leaves
1 avocado, diced
Lime slices, for serving
Preheat the oven to 350° F. Line a baking sheet with parchment paper.
To make the queso: In a blender, combine the cashews, water, nutritional yeast, lecithin, miso, turmeric, chipotle, salt, onion powder and tahini. Blend until very smooth. Place the coconut oil in a saucepan and warm over medium heat. Add the shallot, garlic, and jalapeño, and sauté for 2-3 minutes, until softened. Pour in the blended mixture, and reduce the heat to medium-low. Cook for 5 minutes longer, stirring constantly, or until the mixture has reduced by about half and thickened. Remove from heat.
To make the nachos, spread the chips out onto the baking sheet. Drizzle with as much of the queso as desired, and distribute the pinto beans on top. Bake for 5-10 minutes, or until chips are warm and queso has darkened slightly. Remove from the oven and sprinkle with the remaining toppings. Best served warm.
The post The Superfood Nachos You Definitely Need In Your Life appeared first on JulieMorris.net.