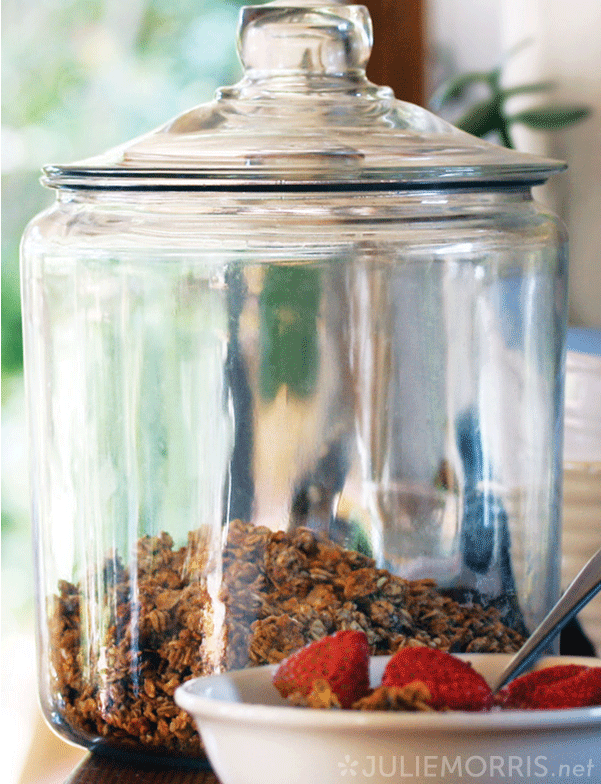 Take advantage of flavor-friends banana and hemp seed with this exceptional granola recipe. I seriously can't stop eating this when there's a fresh batch around . . . and when you check out the ingredients, you'll see why I'm more than okay with that.
Makes approximately 8 cups
¾ cup mashed very ripe bananas (about 2 bananas)
2⁄3 cup soft Medjool dates, (about  6 or 7), pits removed
1 tablespoon vanilla extract
¼ teaspoon sea salt
¼ cup smooth almond butter
3 cups oats*
½ cup hemp seeds
*For gluten-free granola, use gluten-free oats, available through natural food stores or online 
Preheat the oven to 300˚ F. Line a cookie sheet with parchment paper and set aside.
Place the mashed bananas, dates, vanilla extract, and sea salt into a single-serving blender or food processor. Puree until as smooth as possible, getting the dates to blend with the bananas.
Stop the machine, add the almond butter, and blend again briefly.
In a large bowl, toss together the oats and the hemp seeds. Pour the banana blend on top, and mix until the oats are well coated. Spread the mixture out evenly across the prepared cookie sheet and bake in the oven, setting a timer for 30 minutes. After half an hour, take the granola out of the oven and use a spatula to flip and mix the granola, breaking up the large clumps to ensure even baking. Return to the oven and continue baking for another 20–30 minutes, until the granola begins to turn golden brown. (Total baking time is 50–60 minutes.) Remove from the oven and let cool to room temperature on the hot baking sheet before transferring to a storage container.
Serving suggestion: Serve with almond milk, fresh bananas or strawberries, and raw cacao nibs. 
Reprinted with permission from Superfood Kitchen  © 2012 by Julie Morris, Sterling Epicure, an imprint of Sterling Publishing Co., Inc. Photography by Julie Morris.
The post Banana-Hemp Granola appeared first on JulieMorris.net.