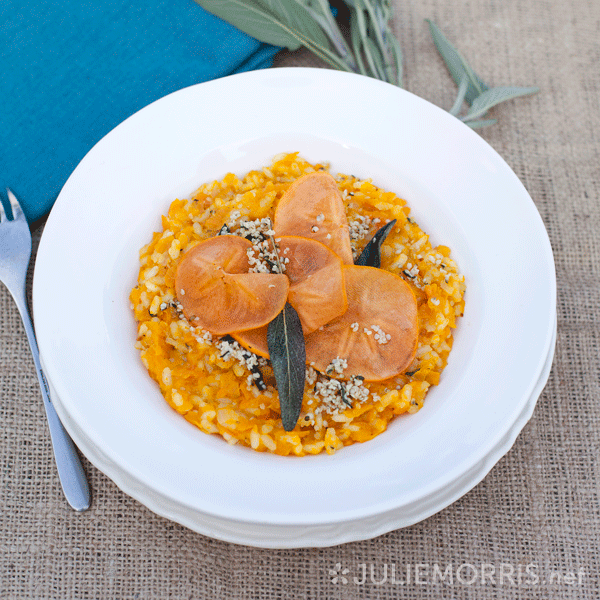 An extra generous amount of squash means this rich and comforting entree is actually higher in vegetables than rice. If you have a rice cooker with a risotto setting, put it to use it for hands-free cooking.
Makes 4-6 servings
2 pounds butternut squash
¼ cup coconut oil
2 tablespoons cup fresh sage, minced
½ cup hemp seeds
3 tablespoons yellow miso paste
½ cup yellow onion, minced
1¼ cups arborio rice
½ cup dry white wine
2 Fuyu persimmons, sliced paper-thin
sea salt and ground black pepper, to taste
Walnut oil (optional)
Use a sharp knife to cut the peel off of the butternut squash. Cut in half, and discard the seeds. Grate the squash into shreds, and set aside.
Heat one tablespoon of coconut oil in a small sauce pan. When the oil is hot, add the sage and ¼ teaspoon salt. Cook for 2 minutes, stirring. Add the hemp seeds and cook, stirring, until the seeds just begin to turn golden, about 2 minutes. Remove from heat immediately to avoid burning and transfer to a bowl; set aside.
In a blender, combine the miso paste with 4 cups of water and blend until smooth. Transfer liquid to a medium saucepan to heat up the broth; keep warm.
Heat the remaining 3 tablespoons coconut oil in a large saucepan, over moderate heat. Add the onion and cook for 5 minutes, until softened. Add the squash and cook, stirring, for 7 minutes longer.  Add the rice to the pan stir until rice is evenly distributed.  Add the wine and simmer until evaporated, about 3 minutes.
Add just enough of the warm miso stock to cover the rice  and cook over medium heat until the stock is absorbed. Continue to add the remainder of the stock, 1 cup at time, stirring frequently, until the mixture has thickened and the rice is al dente, about 25 minutes. (Add additional water if needed.) 
Remove from heat, and stir in half of the hemp mixture into the risotto. Adjust seasonings to taste. Transfer the risotto to serving plates, and garnish with remaining hemp seeds and a few persimmon slices, and lightly drizzle with walnut oil (if desired).
Originally posted on NavitasNaturals.com. Recipe by Julie Morris.
The post Butternut Squash Risotto with Sage-Toasted Hemp Seeds & Persimmon appeared first on JulieMorris.net.