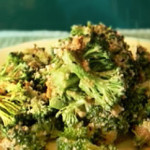 Broccoli with cheese sauce gets a fresh, flavorful and nutritious update when Julie turns this classic dish into a dairy-free, cholesterol-free and gluten-free dinnertime hit.
Cheesy Broccoli Bowl 
I grew up on broccoli with cheese – my mother made it once a week. Such a delicious combo! Over the years I've turned her family classic into an even more eco-friendly and healthy modern dish . . . without sacrificing any of the flavor. This dairy-free and cholesterol-free version brims with calcium, iron and protein, while also complimented by all the wonderful antioxidants and polyphenols from the broccoli.
I like to serve this recipe "as is" (uncooked), enjoying the maximum nutritional potential of these great superfoods. If you're craving a warm dish though, no worries — simply steam the florets lightly for a few minutes, then combine with the sauce.  Either way, the delicious cheesy flavor and addictive broccoli crunch will have you coming back for a healthy second round every time.
1 tsp Braggs Liquid Aminos
2 Tbsp raw tahini
1 Tbsp coconut oil, melted
1 Tbsp nutritional yeast
¼ tsp paprika
1/8 tsp garlic powder
1½ tsp lemon juice
3 cups finely chopped fresh broccoli florets
1 or 2 Tbsp hemp seeds
water, if desired
Stir: In a small bowl, mix the nutritional yeast, paprika, and garlic powder together. Stir in the tahini. Pour in the Braggs, lemon juice, and coconut oil and whisk thoroughly. If a thinner sauce is desired, add a little water, a tablespoon at a time.
Combine: Put the broccoli into a larger bowl and pour sauce on top. Toss until evenly coated (for best results, use your hands!) Sprinkle top with hemp seeds and serve. Keeps refrigerated for several days.
Serves 2
The post Cheesy Broccoli Bowl appeared first on JulieMorris.net.