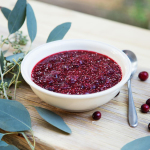 Slippery soaked chia seeds are a textural delight in this fresh cranberry sauce, which also help it to thicken. And while most cranberry sauces call for at least a cup of white sugar (or more!), incredibly, this recipe leans on just fruit combined with only 3 tablespoons of low glycemic coconut sugar – without skimping on flavor or sweetness one bit.
Makes 2 cups / 6 servings
1 1/2 cups fresh or frozen cranberries
1 1/2 cups fresh apple juice
3 tablespoons coconut sugar
3 tablespoons chia seeds
1/2 teaspoon finely grated fresh orange zest
In a medium saucepan, mix together the cranberries, apple juice and coconut sugar over moderate heat.  Bring to a simmer and cook until the cranberries have burst, and the liquid has reduced by about half – approximately 20 minutes. Remove from heat, and add the chia seeds and orange zest. Mix very well to distribute the seeds. Let cool at room temperature for 30 minutes, stirring the chia seeds to incorporate every 10 minutes, then transfer to the refrigerator to fully chill. Serve cold.
Refrigerated, Chia-Cranberry Sauce will last for up to one week.
Originally posted on livebeaming.com. Recipe by Julie Morris. 
The post Chia-Cranberry Sauce appeared first on JulieMorris.net.