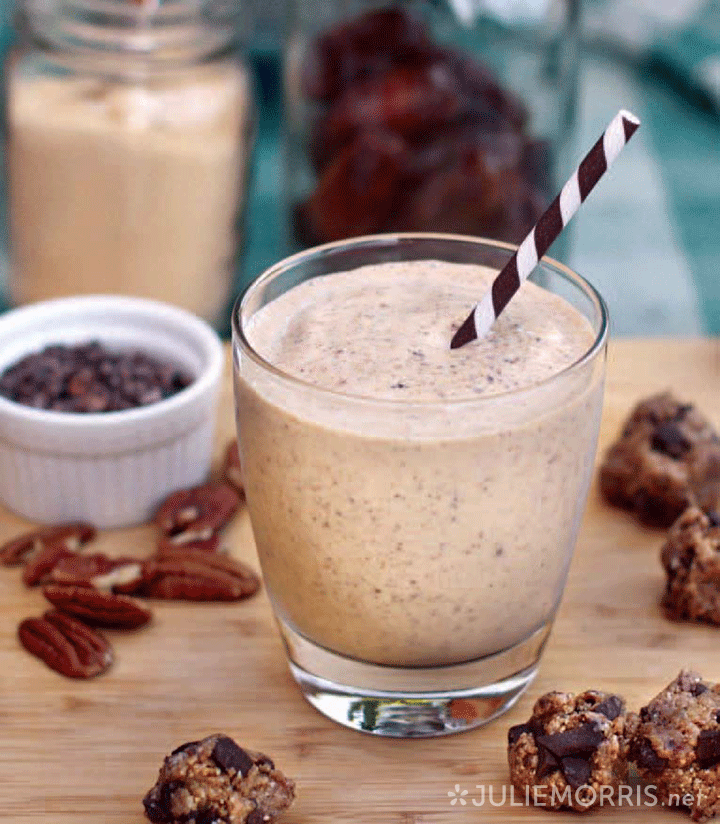 Even though there's no real cookie dough in this smoothie, it sure tastes like it! Caramel-like dates, rich and nutty pecans, and cacao nibs with their hint of chocolate blend perfectly with lucuma powder— which has a natural "cookie-like" flavor—making this smoothie all kinds of fabulous.
Makes 2 14-ounce servings
1⁄4 cup raw pecans
1⁄4 cups Medjool dates, pitted (about 3–4 large fruits)
1 cup very ripe pear, chopped
2 tablespoons lucuma powder
1 teaspoon maca powder
1 1⁄2 cups almond milk
2 tablespoons cacao nibs
2 cups coconut ice*
sweetener, to taste (optional)
Blend together all the ingredients except the cacao nibs and coconut ice until creamy and smooth. Add the nibs and ice and blend until frosty, leaving the nibs to serve as the "chocolate chips" and add a crunchy kick. Inherently dessert-like, it is unlikely you will need to boost the sweetness, but taste the smoothie and add if desired.
*Coconut water frozen in ice cube trays.
Superfood boost: add 1 tablespoon of chia seeds.
Reprinted with permission from Superfood Smoothies  © 2013 by Julie Morris, Sterling Publishing Co., Inc. Photography by Julie Morris.
The post Cookie Dough Smoothie appeared first on JulieMorris.net.