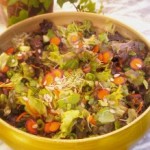 Reason #3,378? MEGA LETTUCE, of course.
I love farmer's markets. Seriously. The local food, uber-freshness factor, ideal seasonality and specialty crops keep me coming week after week. But today my trip to the farmers market today wasn't just good, it was downright mega. Why? Because I think I may have personally bought the biggest lettuce ever.
(Ever.)
My friend made fun of me for documenting this (remarkable, amazing, life-changing) event, but I believe anyone in my position would be tempted to do the same. I mean, this head of organic, red-leaf lettuce was practically Guinness Book material in size. Huge. Massive. The size of practically 3 lettuces in one.
Impressed yet?  Consider this: even when it met the demise of my oversized salad bowl, I could only fit half of the lettuce head inside. Now THAT'S a lettuce!
Only at a farmer's market would you find an such incredible piece of produce like this. So thank you, farmer's market. And thank you too, nice organic farmer. But really, it's a special thanks to you, mega lettuce, for a tremendous dinner. I'll be looking for your red leaf cousin next week. He should be easy to spot.
The post Farmer's Market Love appeared first on JulieMorris.net.