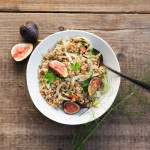 I am so excited that the weather is starting to cool down! All of my favorite summer salads can start to be complemented by warm winter grains. While quinoa is the buzz food on everyone's mind right now, there's plenty of other exeptional grains that deserve a little love on the plate. One of my favorites is the an ancient savory grain called farro. While it may not have the same protein content that quinoa has, it is impressively high in fiber (8 grams in each serving!). Compare that to brown rice which weighs in at 5 grams of fiber per serving. Farro also contains many minerals and nutrients; most prominently magnesium, vitamin B3, and zinc. Magnesium is great for calming tension, while B vitamins are essential for providing sustainable energy. Could it be a more perfect combination?!
But perhaps my favorite thing about farro is it's unique flavor and texture. In salads, farro can take on a nutty, almost crunchy texture. However, it can also be used in soup, stir-fry, or risotto. The flavor can be elevated or transformed depending on how it is cooked and what spices are absorbed into the grain. 

Fennel & Farro Salad
Makes 4-6 servings
1 large bulb fennel (or two small)
1 cup diced apple (about ½ large)
¼ cup fresh parsley, minced
1 Tbsp shallot, minced
3 Tbsp hemp oil, or olive oil
1 tsp mustard seeds
3 Tbsp fresh lemon juice
2 Tbsp 

Navitas Naturals Yacon Syrup
sea salt and black pepper
1½ cups farro
1 cup sliced almonds
12 large figs, quartered
Slice the fennel very thinly into shreds. Place the shreds in a large bowl, and add the apple, parsley, shallot, hemp oil, mustard seeds, lemon juice,1 tablespoon of the yacon syrup and ½ teaspoon sea salt. Stir to combine, then let marinate for 30 mintues.
While the mixture is marinating, pour the faro into a medium saucepan, and cover with water by a couple of inches. Bring to a boil, then reduce the heat to a simmer. Cook, covered, until faro is al dente and chewy, about 20-25 minutes. Drain the faro, and spread out on a baking sheet to cool to room temperature.
Add the cooked faro to the bowl with the marinated fennel and toss well. Just before serving, mix in the almonds, fold in the figs and drizzle with the remaining tablespoon of yacon syrup. Adjust seasoning with additional salt and black pepper, if desired. Serve at room temperature.
Originally posted on NavitasNaturals.com. Recipe by Julie Morris.
The post Farro & Fennel Salad appeared first on JulieMorris.net.