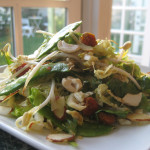 It's no secret that a rockin' food pyramid includes some serious salad action. And when I say salad, I mean the big, bulky, butt-kickin' kind . . . the kind just overflowing with flavorful fresh goodness. When I make a salad,  I'm making a treasure hunt for the fork: a edible voyage packed with new awesome bits of yummy, propelling my feeding inertia as I chomp through the veggie pile. Yeah, I'm pretty much obsessed with salads.
Why so much salad love? Well, of course, veggie salads are good for you . . . blah blah blah. You know that. But! The other great part about salads is they're really easy. REALLY easy. You can't burn a salad, you don't have to dust off every pot in the kitchen — all you need is 5 minutes and a knife, and you've got a masterpiece. Inventor of salad, you are a genius!
A winning combo which features classic Asian flavors is my recipe for a Chinese Chop Salad. A simple, flavorful, gingerey dressing rounds out the crisp vegetables and crunchy nuts. Forget your idea of an appetizer, this salad is nothing short of a meal. Protein, greens, antioxidants, yum factor – that's basically the food pyramid, right?
Oh, and as for those pathetic little restaurant salads with their flavorless lettuce and mysteriously pale tomato wedge . . . please.
Chinese Chop Salad:
A healthy makeover of a chinese chicken salad, this fresh preparation offers substantial amounts of protein of the plant-based variety. The Nama Shoyu and mung beans helps establish a Chinese tone within the dish, and the addition of goldenberries adds a sweet/tart juxtaposition that literally explodes with flavor against the crisp greens.
Serves 4
(For the dressing):
1½ Tbsp yacon syrup, or agave nectar
2½ Tbsp Nama Shoyu, or soy sauce
1½ Tbsp apple cider vinegar
1 Tbsp + 1 tsp fresh ginger, grated
1 whole red jalapeño pepper, minced (with or without seeds)
¼ cup hemp oil or olive oil
¼ cup sesame seeds
2 Tbsp fresh squeezed orange juice
(For the salad):
4 cups chinese cabbage, shredded
6 cups romaine lettuce shredded
¼ cup scallions, white and green parts
1 cup snow peas
2 cups mung bean sprouts
¾ cup sliced or chopped almonds
1/2 cup goldenberries (substitute mandarin oranges if goldenberries are unavailable)
To make the dressing, combine all the dressing ingredients in a blender, blending until as creamy as possible. Set aside.
In a large bowl, chop and combine all salad ingredients. Toss with dressing just before serving.
The post Feeding The Salad Habit appeared first on JulieMorris.net.