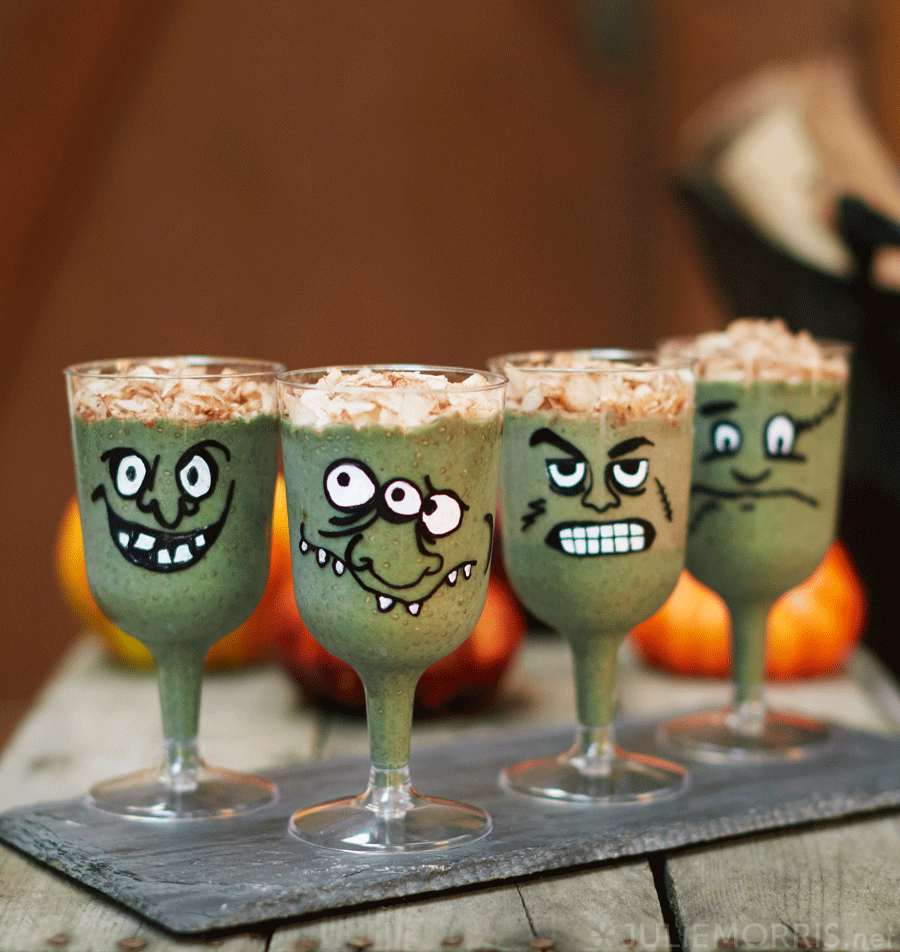 When grocery markets start stocking entire aisles of candy, and every store reeks of pumpkin spice, it's hard to avoid getting into at least a little bit of sugary trouble. Good intentions can quickly take the backseat to bright colors and "fun-size" indulgence, all in the name of Halloween of course. Sigh. We don't need to be reminded of the sugar impact, preservatives and artificial colors, and overall truly nasty stuff that hides within so many of these traditional favorites, do we? No. We knowwwww.
At the same time, this really isn't the greatest time to be bringing up the benefits of things like broccoli and spinach. Kids (and kids-at-heart!) crave the playfulness that comes with seasonal treats, which is why it's important (and fun) to get a little creatively savvy. I wanted to make something that could be enjoyed by everyone and was not just guilt-free, but actually contained some actual nutritional benefits too. The perfect answer? Chia pudding. Beyond its popular yum factor, few things are more fun to eat than the slippery texture of gelatinized chia. Plus, when it's sweetened primarily with just fruit, this is one treat that can be offered with true healthful confidence. To make it extra "Halloweenie," my go-to superfood secret is using spirulina powder, a naturally blue-green algae whose color is seriously the best-ever ghouly hue, while adding a nice layer of vitamins, minerals, and immune-boosting micronutrients at the same time. In fact, don't just stop with food: you can also mix spirulina into your face cream for a paint-like effect that's awesome for creepy costumes — a look that's not only all natural, but truly good for your skin as well!
This Halloween season, step it up with a healthier celebration by revamping your treats; a couple simple superfood tricks are all you need.
Halloween Chia Pudding
This deliciously low-sugar spooky recipe takes full advantage of spirulina's cool green hue. (You can easily use more spirulina without the flavor being effected, but the color will be darker.) If serving at a party, use disposable clear cups, and hand decorate with Halloween faces for a fun effect.
Makes about 4 cups / serves 4-8
2 cups unsweetened cashew milk or coconut milk (boxed variety)
1 tablespoon maple syrup
2 large very ripe bananas, peeled and quartered
2 teaspoons vanilla extract
½ teaspoon ground cinnamon
½ teaspoon Hawaiian Spirulina
6 drops stevia, or to taste
½ cup chia seeds, preferably white variety
½ cup unsweetened coconut flakes
1 teaspoon cacao powder
In a blender, combine the milk, maple syrup, bananas, vanilla, cinnamon, spirulina, and 6 drops of stevia. Blend until smooth. Taste for sweetness, and add extra stevia if desired. Add the chia and blend for 1-2 seconds – just to mix and incorporate the seeds (don't blend too long or the seeds will break down). Transfer the mixture to a quart-size mason jar with a lid, or smaller sealable jars. Once sealed, shake the mixture and refrigerate. After 15 minutes, shake the mixture once more, and refrigerate for 30 minutes longer.
To serve, toss the coconut flakes and cacao powder together in a small bowl, mixing to evenly dust the coconut. Spoon the chia pudding into serving glasses, and top with coconut.
Chia pudding lasts for 4-5 days, refrigerated, and may be made ahead of time.
Nutrex Hawaii has generously offered a discount to all JulieMorris.net readers for all spirulina purchases: Use code SFJULIE at Nutrex-Hawaii.com to receive 20% off up to $75, 30% off up to $149.99 and 40% off above $150.
This post was sponsored by Nutrex Hawaii. All opinions here are 100% my own.
The post Green Your Halloween With This Superfood Treat appeared first on JulieMorris.net.