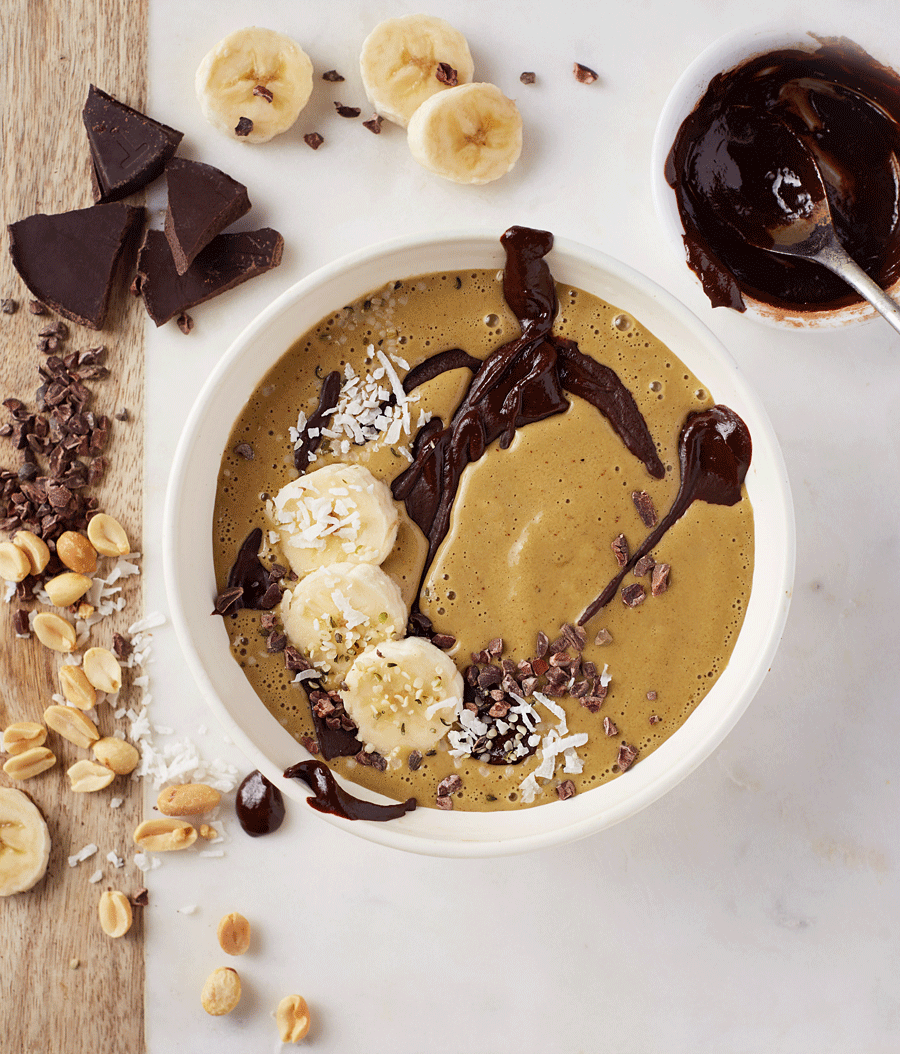 Without a doubt, smoothie bowls are one of the best things to come out of the healthy movement recently. They're fun, easy, versatile, and you don't have to be a master chef to ignite your own creativity with them. They're also really, really, amazingly similar to an ice cream sundae, except without any of the bad stuff … so they're also kind of a hero.
Growing up in persistently warm Southern California, I've had my fair share of delicious frozen things in bowl form. In fact, over the years, I've experimented with hundreds (yes, I'm completely serious) of variations of smoothie bowls. But recently, I blended up one of the best ever, in the epic flavor of Peanut Butter Fudge. (I know, right?).
What makes it so great, aside from, ahem, peanut butter fudge, is the fact that it's surprisingly well balanced in nutrition, which (as much as I love them) is not something all smoothie bowls can boast. In this version, you're getting a bit of energizing carbohydrates from a banana, healthy fat from coconut, and electrolytes from maple water or coconut water. But 90% of the nutrient balancing credit – and flavor credit for that matter – is coming from one, pretty incredible ingredient: the new Chocolate Peanut Butter Protein Powder from Amazing Grass. I first tried this stuff back in March at the Natural Products Expo in Anaheim, and absolutely could not wait to start incorporating it in my own kitchen. The smooth texture, the superb flavor, and the exceptional ingredients, oh my! It has 20 grams of protein per serving PLUS includes seven alkalizing greens, including wheatgrass, spinach, broccoli, and more! It even incorporates many of my favorite superfoods, like acai and goji, all in one fell swoop. Love at first sight/taste/blend/everything.
But back to this fabulous smoothie bowl … to all that goodness, I add a quick natural fudge sauce made with real cacao, and the result is some serious superfood action that is healthy enough for breakfast, but full-on tastes like dessert. For sure, THIS is the smoothie bowl of the summer…. and it couldn't be any easier.  All I can say is mic drop, Amazing Grass. Mic drop.
Peanut Butter Fudge Smoothie Bowl
This epic smoothie bowl acts like a dessert, but has all the nutrition of a superfood smoothie.
Makes 1 serving
For the fudge sauce:
½ tablespoon coconut oil, melted*
2 teaspoons maple syrup
1 tablespoon cacao powder
pinch salt
For the smoothie bowl:
1 frozen banana
1 cup maple water or coconut water
1 scoop Amazing Grass Chocolate Peanut Butter Protein Powder
½ cup ice
For serving (optional):
Coconut shreds
Cacao nibs
Hemp seeds
Banana Slices
First, make the fudge sauce. In a small cup, whisk together the coconut oil, maple syrup, cacao powder, and a pinch of sea salt. Set aside.
Next, combine the frozen banana, maple/coconut water, and protein powder in a blender. Puree until smooth, then add the ice and blend once more until frosty. Transfer the contents to a bowl immediately, and drizzle with fudge sauce. Add additional serving toppings as desired, and enjoy!
*You have two options with your fudge sauce. If you enjoy a "magic shell effect, use regular coconut oil and melt it over low heat. If you'd prefer a fudge sauce that stays soft and liquid, use liquid coconut oil (the kind that actually sold as a liquid).
Amazing Grass has generously offered an exclusive discount to JulieMorris.net readers: Get 40% OFF your order with code JULIEMORRIS16 (you must create an account in order for the code to work). This post is sponsored by Amazing Grass – all opinions expressed are my own.
The post Here's The Smoothie Bowl You'll Be Eating All Summer appeared first on JulieMorris.net.