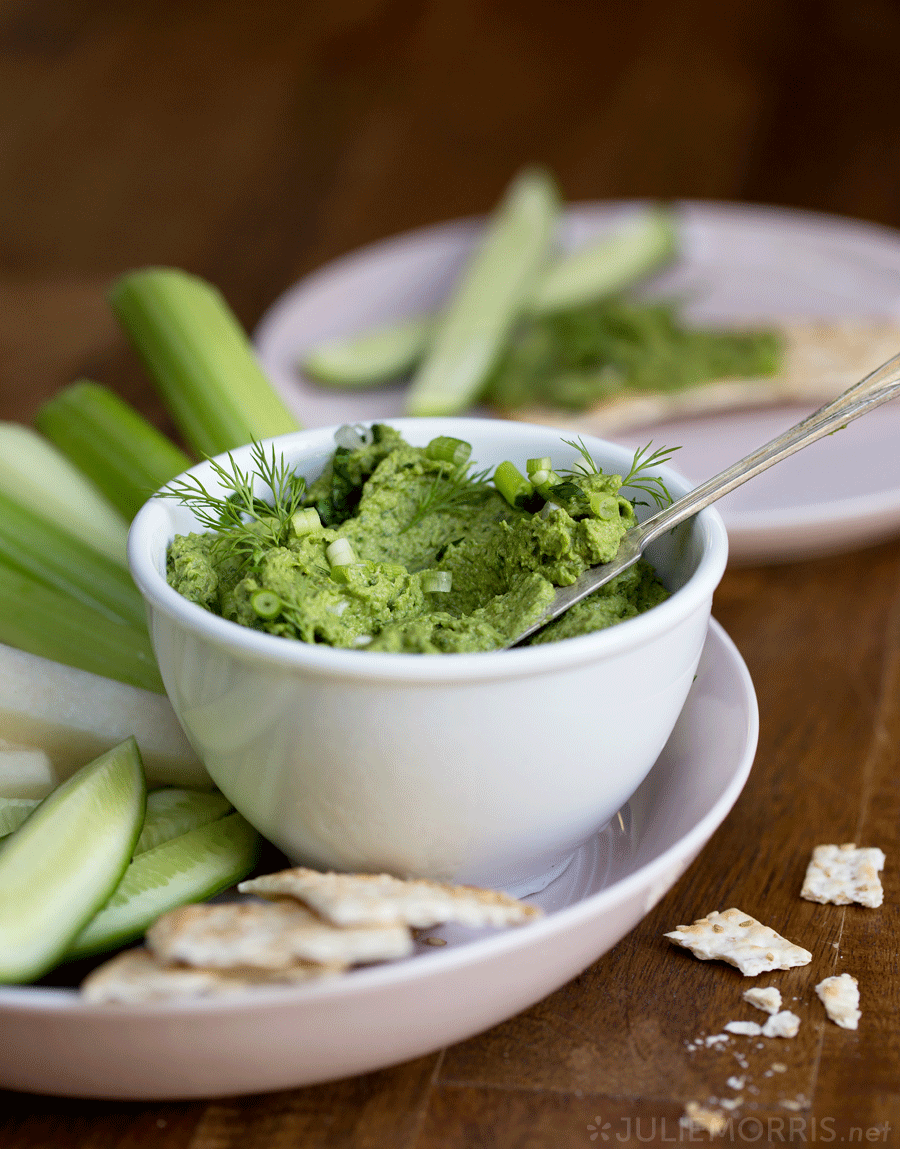 There's many places in life to hold back – fresh herbs are not one of them. Herbs straight from the garden (or even just the produce section at the market … shhh I won't tell if you won't) spruce up just about anything there're put into, with their clean, bright flavors and negligible calories. Additionally, they offer vitamin-rich, immunity-boosting, and blood purifying detoxification – each herb has its own list of real-deal benefits. So with that in mind, below I've boosted the classic hummus two ways – one, with favorite herbs and a handful of peppery arugula. And then another superfood step further with wheatgrass powder (which you won't taste at all), which offers the same micronutrient nutrition as mounds and mounds of vegetables. Of course, you can always leave the wheatgrass out, but why not get the most out of every bite?
Hummus & Greens
Green up your hummus with this fresh-tasting, vegetable-infused spin on the classic garbanzo bean spread. Excellent with fresh vegetables and crackers.
Makes about 2 cups
1½ cups cooked unsalted garbanzo beans
¼ cup tahini paste
1/3 mashed avocado
1 cup (packed) arugula leaves
½ cup (packed) fresh parsley
½ cup (packed) mixed fresh herbs, such as mint, dill, and cilantro
1 teaspoon Navitas Naturals Wheatgrass Powder (optional)
½ teaspoon garlic powder
½ teaspoon curry powder
3 tablespoon fresh lemon juice
½ teaspoon sea salt
3 green onions, white and light green parts sliced thin
In a food processor, combine all the ingredients except the green onions. Process into a smooth paste. Add 2 tablespoons green onions, and blend briefly once more. Taste for seasoning, and add additional salt and pepper if desired. To serve, transfer to a bowl and sprinkle with remaining 1 tablespoon green onions.
The post Hummus & Greens appeared first on JulieMorris.net.