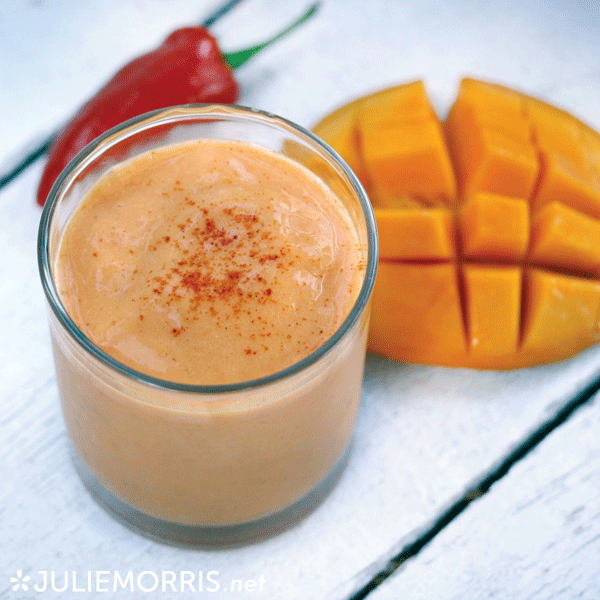 Sweet and tropical with a hint of spice, the key to making this smoothie is using a chili powder made exclusively from red chiles—not one that's a blend of other spices (like oregano and garlic), which offer too much of a savory flavor for smoothie purposes. If you can't find a pure chili powder, use a fresh, de-seeded, red jalapeño pepper instead.
Makes 2 16-ounce servings
2 1⁄2 cups frozen mango chunks
3 tablespoons hemp seeds
2 tablespoons dried goji berries
1 teaspoon chili powder (see note above)
1 1⁄2 cups apple juice
1 cup water
2 tablespoons freshly squeezed lime juice
sweetener, to taste (optional)
Blend all the ingredients together until smooth. Taste, and blend in sweetener as desired.
Superfood boost: add 1 tablespoon chia seeds for extra fiber.
Reprinted with permission from Superfood Smoothies  © 2013 by Julie Morris, Sterling Publishing Co., Inc. Photography by Julie Morris.
The post Mango Chili Smoothie appeared first on JulieMorris.net.