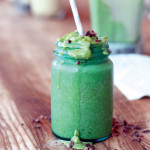 Tucked beneath a very convincing ice cream-like flavor, a wealth of beneficial spinach awaits you in this smoothie. It's so good it almost makes a person wonder why spinach isn't used in all minty treats. I love how the cacao nibs provide a bit of dark-chocolate crunch without being overpowering.
Makes 2 18-ounce servings
2 cups frozen spinach
2 cups frozen bananas
¼ cup raw cashews
3 tablespoons cacao nibs
2 tablespoons (packed) fresh mint leaves, minced
1 teaspoon vanilla extract
2 cups rice milk (original variety)
½ cup coconut water
sweetener, such as stevia, to taste (optional)
Blend all the ingredients together until smooth. Taste, and sweeten as desired.
Reprinted with permission from Superfood Smoothies © 2013 by Julie Morris, Sterling Publishing Co., Inc. Photography by Julie Morris
The post Mint Chip Smoothie appeared first on JulieMorris.net.