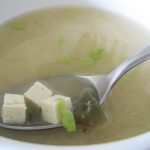 So it's the holidays. And just when it's time to spread good cheer, the flu decides it wants to spread its love too.
So far I seem to have been a-ok this year from a flu and cold standpoint. But oh no no no – that doesn't mean I'm not prepared to go into battle if needed. In fact, when it comes to getting sick, I pretty much have my system down pat, ready and poised for the first sign of attack:
Tissues: yes.
Self-pitying fuzzy blanket: yes.
Helpful healing herbs: yes.
And most importantly, ingredients to make my special miso soup: always.
Whether you're in the middle of a full-on flu battle or simply just a little run down, I'm telling you, miso soup just FEELS good. It feels RIGHT. Get your bowl ready.
Used now for almost 2 milleniums, this special soup is composed mainly of miso paste – made from fermented soybeans, grains, or rice. It acts as a flavorful salty soup base containing a vast amount of healthy elements like minerals (including cold-busting Zinc), and even elusive vitamins like B12. Adding in the traditional wakame seaweed into a miso soup mixture adds an even higher potency of minerals . . . and it doesn't hurt that wakame is also amongst the most alkalizing foods around. Add a dash of cayenne to really get the blood flowing. And maybe throw in some optional kelp noodles for a fun, calorie-free take on an old-fashioned chicken noodle fix (which, quite honestly, has very little to brag about – despite what grandma says).
Quick and easy to make, the biggest key to a great miso is not to boil the paste, else many of the beneficial healthy agents are destroyed. That's why, instead of putting the miso in a pot, I make each bowl individually using the "smear method" (as described below). Healthy holidays . . .
Simple Miso Soup
1 1/2 cup water
1/2 cup kelp noodles, rinsed (optional)
1½ Tbsp wakame flakes
pinch of cayenne, to taste
1 Tbsp yellow miso paste
¼ cup firm tofu, cut into small ½" cubes
1 Tbsp finely chopped scallions (white part only)
Heat the water, wakame, cayenne, and kelp noodles to just below a low simmer in a small saucepan (about 3-5 minutes).
In a large soup bowl, smear the miso paste with the back of a spoon to thinly coat the bottom of the bowl. Add water and noodles, and stir until miso has dissolved. Stir in tofu and scallions. Allow to rest for a minute or two before consuming. Serves one.
NOTE: Can you use other types of miso (aka Red or Yellow)? YES! I simply like the White the best as it is the most mild in taste.
The post Simple & Grounding Miso Soup appeared first on JulieMorris.net.