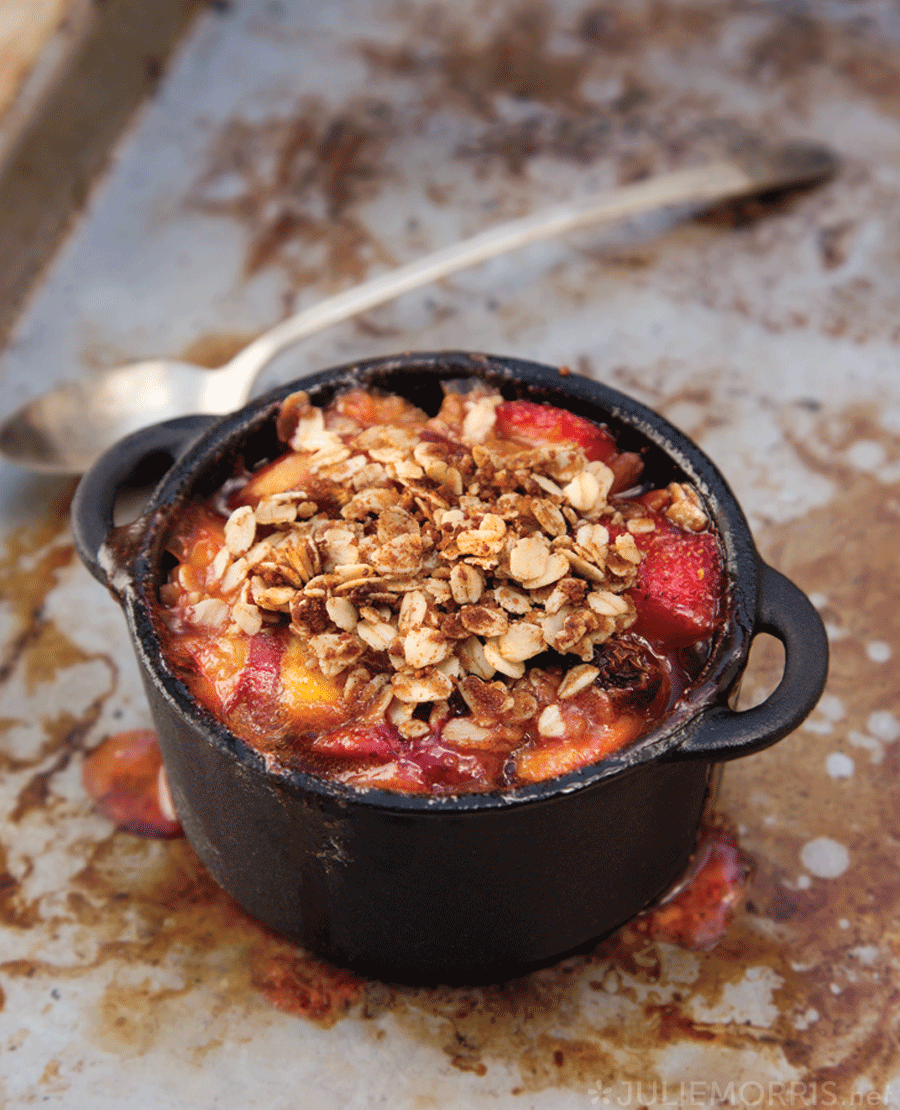 Just as the rest of the country is pulling into spring full-bling, the canyons here in Los Angeles are gloomy and drizzly today. Please though, don't pity us – we love it.  A rainy day is practically a holiday in southern California. We try not to drive anywhere, sip on mugs of hot tea or lattes, get the fire going, and embrace that cozy spirit for all it's worth. Which for me, means that today is clearly a day to BAKE.
In the most instinctual of ways, nothing is as appealing as turning the oven on when it's rainy outside. But impatient as I can be at times, I often want something warm and yummy that's not going to take half the day to create, you know? Superfood Snacks to the rescue! I'm just so enthused by all the positivity I've heard about the new book, so I want to share one of its recipes with you, which is simmering in my oven as we speak: a Strawberry Peach Crisp. It's the perfect combination of premium comfort and deep flavors, while being joyously rich in seasonal fruits. I'm using apricots instead of peaches today because I bought so many at the Santa Monica farmer's market on Wednesday, but you can bet I'll be making this again with peaches soon. In the meantime, enjoy this sneak peek at Superfood Snacks!
Strawberry Peach Crisp
Reprinted with permission from Superfood Snacks © 2015 by Julie Morris, Sterling Publishing Co., Inc. (Available anywhere books are sold).
Have you ever known a naturally beautiful woman who insists upon always covering herself in an exceedingly thick mask of make-up? If so, you can understand exactly how I feel about the tradition of loading baked fruit crisps with tons of sugar. Ripe fruit really needs so very little to heighten its treat factor, especially when it is transformed into such syrupy-soft pleasure when it is baked (and topped simply with crunchy oats). You can easily prep the ramekins ahead of time and store them in the refrigerator so you can just pop them in the oven whenever. 

Makes 4 servings

 1⁄3 cup dried goldenberries
1 cup hot water
¼ cup fresh orange juice
2 tablespoons arrowroot powder (optional)*
1 teaspoon freshly grated lemon zest
¾ teaspoon ground cinnamon, divided
1 cup strawberries, trimmed and quartered
1½ cup peaches, cut into ½-inch wedges
½ cup rolled oats**
2 tablespoons coconut sugar
4 teaspoons coconut oil, melted
Coconut yogurt, for serving (optional)
Preheat the oven to 375°F. Coat 4 5-ounce ramekins with cooking spray.
Place the goldenberries in a medium bowl and pour the hot water on top. Let the berries sit for 20 minutes to soften, then drain. Add the orange juice, arrowroot powder if using, lemon zest, and¼ teaspoon of the cinnamon to the drained goldenberries and mix well. Fold in the strawberries and peaches.
In a separate bowl, mix together the oats, coconut sugar, coconut oil, and remaining ½ teaspoon cinnamon.
Fill ramekins with the fruit mixture, then sprinkle the oats on top. Bake for 20 to 25 minutes or until the top is golden brown and the fruit is bubbling. Remove the ramekins from the oven and cool for a minimum of 15 minutes. To serve, top the crisp with a dollop of coconut yogurt, if using. Fruit crisps may be served warm or at room temperature. Extra ramekins can be stored in the refrigerator for several days.
* Arrowroot powder helps thicken the fruit mixture when baked, without adding sugar (it's virtually flavorless).
**Gluten-free rolled oats may be used.
The post Strawberry Peach Crisp appeared first on JulieMorris.net.