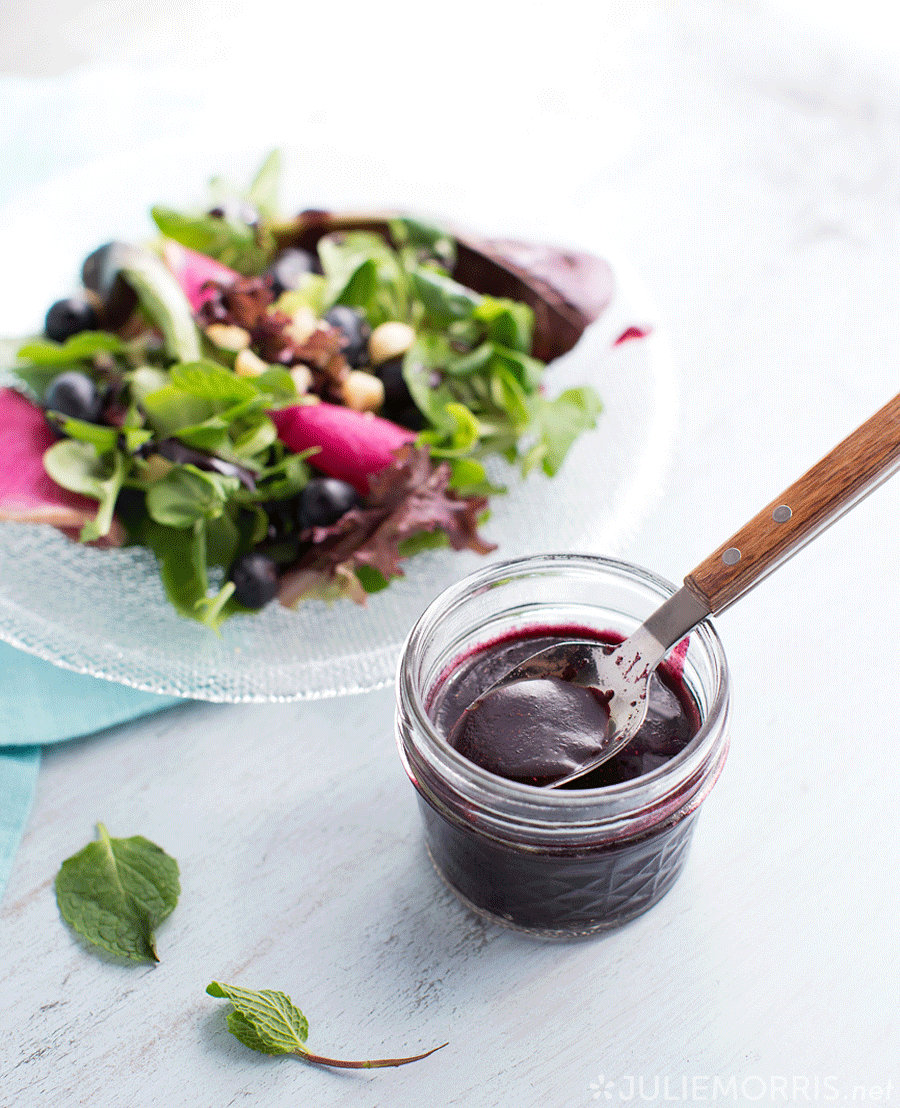 Hooray, you just made a beautiful salad with fresh, seasonal produce. Well played. Now, don't water down your efforts with some blah bottled dressing. My number one rule with salad dressings: put down the bottle and pick up the blender! It's SO much easier to control the quality of ingredients that go into your homemade dressing versus store-bought, as while a DIY version is profoundly simple, many commercial varieties "make it complicated" by using downright awful additives (GMO canola oil, artificial food colorings, high fructose corn syrup, and excessive sodium, to name a few). Whipping up your own batch can last you weeks at a time, yet takes just minutes to make, and there's just so many ways to create exceptional dressings deliciously enriched with superfood nutrition.
Creamy Hemp | Love a good creamy dressing? Use raw cashews and hemp seeds blended with a little water and your favorite herbs, savories, and a dash of Dijon mustard. You'll be amazed at how flavorful the fresh version is in comparison to a bottled variety, and will gain additional protein and skin-healthy omega fats at the same time.
Antioxidant Vinaigrette | One of my favorite ways to easily boost a simple vinaigrette is by quickly whisking in an antioxidant-rich superfruit powder. You can do this with acai powder, maqui powder, or a superfruit blend. Adding a dash of sweet syrup like agave, maple or yacon can help accentuate the flavor even more.
Flavored Oils | If you're a salad dressing minimalist – as in, a drizzle of oil and lemon is all you need – try boosting the flavor of your oil by infusing it with superfoods. Simply use dried superfruits like goji or dragonfruit, in conjuction with herbs like thyme or lemongrass, and store the oil for at least a month before using.
Naturally Sweet | Some salads go great with at sweeter-style dressing (roasted beet salad with honey-mustard anyone?). Excitingly, you can make these sweet dressings using low-glycemic and more nutrient-dense ingredients to make them even healthier, such as using lower calorie and prebiotic-rich yacon syrup, or even blending in dried or fresh fruit like antioxidant-infused raspberries.
Needless to say, salad dressings are a great place to have some fun playing around with ingredients. To start you out with, try my seasonal favorite, Maqui Berry Vinaigrette, below.
Maqui Berry Vinaigrette
This show-stopping purple vinaigrette is packed with antioxidants, and makes a particularly wonderful adornment to fresh salads full of leafy baby greens, sliced cucumber, seasonal fruit and a sprinkle of nuts.
Makes about 1 cup / 8-10 servings
2/3 cup olive oil
¼ cup white wine vinegar
2 tablespoons maqui berry powder
2 tablespoons agave nectar, or maple syrup
½ teaspoon sea salt
½ teaspoon ground black pepper
¼ teaspoon ground cinnamon
1 teaspoon Dijon mustard
Combine all the ingredients in a blender, and blend on high to emulsify. Alternatively, whisk vigorously by hand in a medium bowl. Dressing will keep for several weeks, covered and refrigerated.
Originally created for Navitas Naturals; recipe by Julie Morris.
The post Superfood Dressings Your Salad Deserves appeared first on JulieMorris.net.