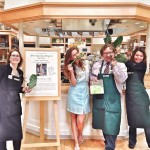 It is with truly great pleasure that I am able to share the news that the SUPERFOOD SMOOTHIES cookbook is now featured at Williams Sonoma stores nation-wide. But… this pleasure extends way beyond just a little feather in my cap; rather, it is about the progress of the health movement at large… and in particular, the rise of superfoods!
Back when I first got into "all this crazy superfood stuff" (as a couple friends of mine like to playful call my [now] line of work) a decade ago, the subject of superfoods was pretty well locked into "fringe" category. There was no gargantuan raw food/superfood section in Whole Foods (they didn't even sell chia seeds – gasp!), and there weren't green smoothies being sported around every place you looked. How times have (quickly) changed.  See, it's not cupcake tins or stand mixers or toasters that are the hot-ticket items at premium cookware stores like Williams Sonoma anymore.  It's blenders. And while my parents may have never dusted off their blender for more than the occasional margarita, our generation on the other hand is looking to make everyday a blendworthy day, whipping up vast varieties of beneficial mixes: namely, smoothies. It makes me unbelievably proud that the same Williams Sonoma stores I so frequently stalked for premium kitchenware all through my 20's, are now featuring my second book, Superfood Smoothies, right alongside healthy superfood powders, and top-of-the-line blending machines. From fringe category to featured subject! I LOVE that!
To celebrate, I have a few smoothie demos and book signings at the Williams Sonoma stores. If you are in the area, please come out and join in the fun. As a major cheerleader for superfoods and plant-based foods myself, I can attest that the more we continue to support stores like Williams Sonoma in their efforts to offer greener and healthier products, the more readily available and more easily attainable a healthy lifestyle will be in this country at large. Let's continue to spread this subject; I'm so happy to be involved in this journey with you!
Superfood Smoothie book signing & demo DATES:
Both the Cookie Dough Smoothie and the Cherry Vanilla Smoothie from Superfood Smoothies are on the menu!
July 20, noon: Williams-Sonoma South Coast Plaza
July 27, 11am: Williams-Sonoma Santa Monica
August 15, 6pm: Williams-Sonoma San Francisco (Union Square)
August 22, 6pm: Williams-Sonoma New York (59th & Lexington)
TBD: Williams-Sonoma Chicago
The post SUPERFOOD SMOOTHIES at Williams Sonoma! appeared first on JulieMorris.net.