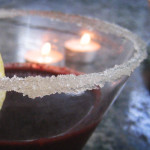 Luckily, my days of high-sugar fluorescent-colored drinks are long over — not a good time, let me tell you. No wait, scratch that; a GREAT time . . . but unfortunately the next day didn't seem to always agree with that sentiment.
This certainly doesn't mean I still don't like a nice drink now and then. So when a glass of vino simply won't do, I like to make what I call "clean cocktails." These are drinks that are flavorful and fun, but just don't have refined or high-sugar ingredients. They are best-case scenarios, alcoholically-speaking.
One of my favorite clean cocktails is The Acai Tini, because the mix actually includes a superstar superfood: Acai. A small purple berry with a mild blackberry flavor, Acai is touted as a highly condensed source of antioxidants. So yes, a martini with benefits! In the spirit of friday, try out this low sugar drink. Here's the recipe.
A lemon-drop style martini with an Amazonian acai berry twist. If desired, make a larger batch of the fruit puree ahead of time (minus the vodka) to have on hand "as needed" . . . wink-wink.
2 oz vodka
2 oz fresh squeezed lemon juice
1 Tbsp agave nectar
2 Tbsp acai powder (I use Navitas Naturals)
optional: palm sugar for the rim of the glass
To make the puree: In a cocktail shaker, combine the lemon juice, agave nectar and acai powder. Shake to combine and allow to rest for 10 minutes to form a puree.
To serve: Fill the cocktail shaker with a handful of ice, and pour in the vodka. Shake until completely cold. If desired, add palm sugar to the rim of a martini glass, pour in cocktail, and serve.
Serves 1

low-sugar cocktail, vegan, gluten-free,

©2009 www.JulieMorris.net
The post The Acai-tini appeared first on JulieMorris.net.