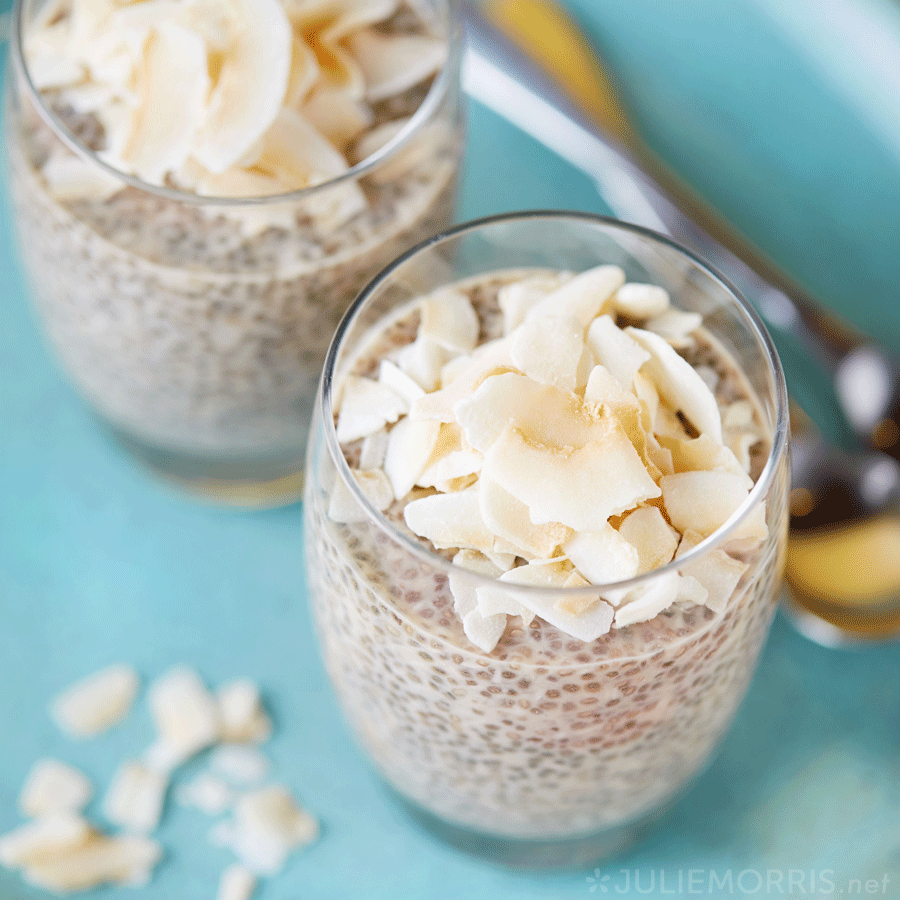 That chia – it's weird stuff. I mean, as seriously one of the best superfoods on the planet, you wouldn't expect it to look so small and innocuous. Appearance judgments aside, not only are its benefits far greater than what your first impressions may suggest (Omega 3's! Calcium! Fiber! Iron! Protein!), but its culinary function is equally as useful and diverse. To me, chia is a gateway superfood – its lack of flavor and teeny size make it so easy to put onto literally anything at all. Having your favorite dish? How about sprinkling a teaspoon of chia on top? Congrats – you've officially cooked with superfoods!
But the wonder of chia goes beyond just a last-minute add-in. Chia is ridiculously high in this thing called mucilage, which is a substance that all plants contain that allows them to retain water. The thing about chia is that it contains a lot of mucilage – so much so that a single seed can hold up to 8-9 times its weight in fluid! Try it for yourself: swirl a few chia seeds in a cup of water and let them sit for 20 minutes: you'll come back to find each seed surrounded by a slippery membrane, which is mucilage in action.
This unique trait is what makes chia seeds such a great binding tool in cooking and baking – it helps ingredients stick together, just like eggs would. Yet if you'd really like to enjoy the pleasure of soaked chia all by itself, which I highly recommend (the texture is fabulous!), chia pudding is your dynamic and delicious answer. Created out of just hydrated chia seeds and little else, it's profoundly easy to make, and a great substitute for regular pudding or yogurt. Here's my favorite method of making it, which can be amped up in terms of add-ins infinitely – try it for yourself!
Coconut Chia Pudding
Double, even triple this recipe for a make-ahead snack you can enjoy all week!
Makes 1-2 servings
1 cup unsweetened almond milk
3 tablespoons chia seeds
2 tablespoons unsweetened shredded coconut, plus more for garnish
1 tablespoon maple syrup
¼ teaspoons vanilla extract
Combine all the ingredients in a mason jar. Seal, then shake thoroughly to combine. Refrigerate for 15 minutes, then shake once more. Return to the refrigerator and let sit for 15-30 minutes longer to allow the chia to thicken into a spoonable pudding. To serve, top with additional coconut.
Chia pudding will last for up to one week, refrigerated.
The post The Miracle of Chia Pudding appeared first on JulieMorris.net.