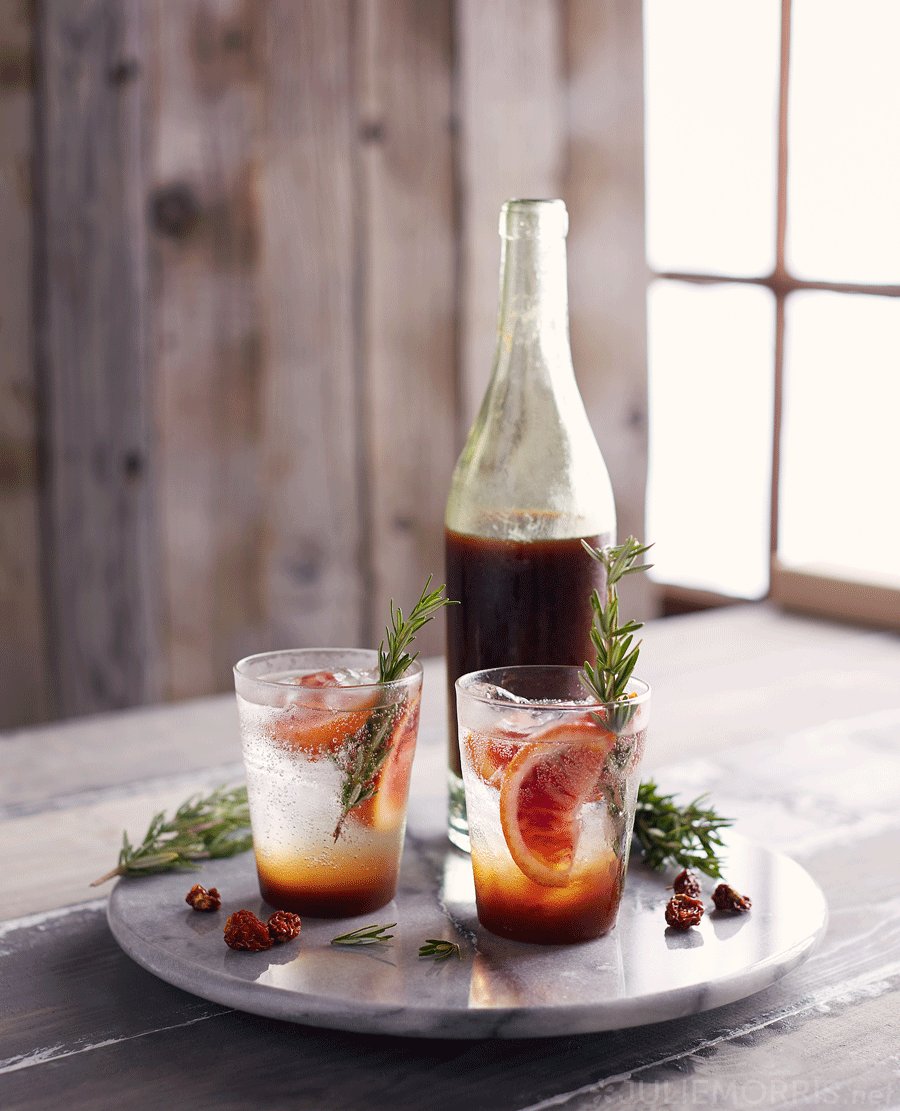 When it comes to cocktails, what's old is often what's new! So is the case with shrubs, which are a kind of ancient vinegar drink that can be thought of as a cousin of kombucha. Just as vinegar can serve as a magic touch to all kinds of recipes, from soups to salads to sauces, shrubs prove this ingredient can also add a surprisingly sophisticated edge to beverages, too.
Made with virtually any kind of produce for infinite flavor possibilities, this year I made a quick goldenberry-rosemary shrub that honestly surpassed even my own expectations. The citrus notes of the goldenberries combined with the festive layer of rosemary was flat-out outstanding, offering beneficial anti-inflammatory activity to boot.  One side note: while it may appear that shrubs are high in sugar via the recipe below, in reality are quite low, as you're using such a small amount per drink/serving. I love combining about a tablespoon of a shrub in a tall glass of kombucha or sparkling mineral water, or for special occasions, you can also add vodka, gin, and even champagne.
Goldenberry Rosemary Shrub
You can make a shrub, aka a vinegar drink, out of just about any kind of fruit, but let's just say the bright sweet-sour flavor of goldenberries do not disappoint! Mix this tangy syrup with tonic water and ice for a refreshing "mocktail," or use as a base for a sophisticated alcoholic drink.
Makes 2 cups / about 32 servings
¾ cup dried goldenberries
1 cup coconut sugar
1½ cups water
1 large sprig fresh rosemary
1 cup apple cider vinegar
Chop the goldenberries roughly, making sure each is at least cut in half. Set aside.
In a small saucepan over medium heat, combine the coconut sugar and water. Bring to a boil, stirring, until the coconut sugar has dissolved. Add the chopped goldenberries and rosemary sprig. Bring to a slow boil, then reduce heat to low, and simmer for 10 minutes. Add the vinegar, and let the mixture return to a boil. Remove from heat, and pour the mixture through a strainer, catching the liquid in a sterilized glass container. Discard the rosemary, and press the berries with the back of a spoon to extract additional juices. Refrigerate until cool, then use as desired. Shrub will keep for several months, refrigerated. Use about 1-2 tablespoons per drink.
Tip: Save those goldenberry solids! They make a delicious mix-in to porridge, yogurt, and creamy desserts like ice cream or cheesecake.
The post The superfood elixir your next cocktail needs appeared first on JulieMorris.net.