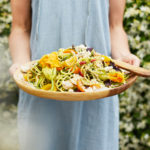 For the past several years, spiralized vegetables have taken the healthy food world by storm. These ingenious "noodles," made entirely from fresh vegetables like zucchini, summer squash, carrots, and beets, look beautiful on the plate and are even more fun to eat. What's more, they're a great way to replace nutrient-void pasta with a low calorie, vitamin-rich alternative.
Nevertheless, most people who have gone to the trouble of making spiralized vegetables (which can be done with a hand-powered machine or a simple vegetable peeler) find themselves in a similar quandry: once you actually have the noodles, what exactly do you do with them? So, to help keep this dish as healthy as possible from start to finish, here are some nutrient-dense spiralizer ideas, ideal or your next potluck or warm-weather meal.
The Classic: Marinara
A simple marinara sauce goes shockingly well when tossed with vegetable noodles. Since these kinds of noodles contain more moisture than a conventional variety, use an extra thick marinara for best results, and toss just before serving. You can also weave in superfoods like chopped mushrooms, chia seeds, or even a little goji berry powder for added sweetness.
The Artistic: Herbs
A good olive oil, sea salt, and an eclectic array of your favorite fresh herbs makes for a reductionistic yet tantalizing arrangement. Keep it simple with chopped basil and a cracked black pepper, or raid your garden and toss with minced mint, chives and edible flowers.
The Italian: Tomatoes and cheese
A much fresher version of a marinara, toss the noodles with an italian-style dressing, and top abundantly with sliced cherry tomatoes and non-dairy cheese. You can even make a simple Parmesan by combining hemp seeds, nutritional yeast, and sea salt as a topping. Add soaked dried goji berries for an extra pop of color and superfood style.
The Green: Pesto
Pesto comes in all kinds of varieties, ranging from the classic basil and pine nut, to the creative like tarragon and pistachio. If you love making simple sauces in your food processor, spiralized noodles are the perfect way to showcase your creations. Add in add extra greens like kale or wheatgrass to your pesto for a bonus serving of vegetables.
The Indulgent: Creamy
Just like real pasta, vegetable noodles become extra wonderful when engulfed in a rich cream sauce – especially one made from plant-based ingredients like cashews or almonds. Whether seasoned with copious amounts of garlic, or lightened with lemon and pepper, this dish cooks up quickly and is a guaranteed crowd-pleaser.
The post What do I do with spiralized veggies? appeared first on JulieMorris.net.