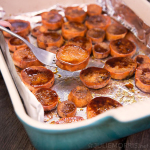 A low-sugar recipe for perfectly tender, sweet, roasted yams, thanks to the power of delicious yacon syrup!
 Makes 6-8 servings
4 medium yams (3 pounds), peeled, cut into 3/4-inch rounds and rinsed
4 tablespoons coconut oil, melted
2 tablespoons yacon syrup, plus extra for drizzling
sea salt and ground black pepper
1/8 teaspoon ground nutmeg
In a large mixing bowl, toss the yams with 2 tablespoons of coconut oil, and season generously with salt and black pepper. Line 2 baking sheets with foil, and use a cooking spray to coat the surface of the foil. Divide the yams amongst the two sheets in a flat layer. Cover both pans tightly with foil. Place the pans on the center rack(s) of a cold oven. Turn the oven on to 425° F and roast the yams for 30 minutes. While the yams are cooking, prepare the glaze by whisking together the yacon syrup, remaining 2 tablespoons coconut oil, and nutmeg in a small bowl. Set aside at room temperature.
After 30 minutes, remove both pans from the oven, and carefully remove the aluminum foil. Brush the tops of the yams with half of the glaze. Use a thin metal spatula to carefully flip the yams over, and brush the other side with the remaining glaze. Return the pans to the oven and roast, uncovered, until the yams are slightly browned and caramelized on the edges, about 20-25 minutes. Let the yams rest on the pan for a few minutes before transferring to a serving dish. Toss with additional salt and pepper if needed, and drizzle with a little yacon sauce (about a tablespoon) on top just before serving. Serve warm.
Originally posted on Navitas Naturals. Recipe by Julie Morris.
The post Yacon Glazed Yams appeared first on JulieMorris.net.